This past year in Alabama politics was surprisingly more interesting than was expected. The judicial inquiry commission removed Supreme Court Chief Justice Roy Moore from the bench for telling the probate judges in the state to not perform marriage ceremonies for gay people. He said marriage should be between a man and a woman, as do most people in Alabama. This removal by this vague panel of former lawyers and judges has caused legislators to call for an investigation of who this panel is and how they have this much power.
More importantly, Judge Moore's views and martyrdom has catapulted him into an early frontrunner position for the governorship of Alabama in next year's upcoming election. He is prohibited from running for the Court again because he is 72 and Alabama law does not allow someone to run for judgeships after age 70. Therefore, it was expected that he was going to run for governor. However, his expulsion has propelled his polling numbers to strategic levels.
Our good ole Dr. Gov. Robert Bentley's saga played out over the year. It is titillating and fun to follow. However, it has pretty much rendered him somewhat irrelevant as governor.
Donald J. Trump's victory for the presidency is of course the biggest political story of 2016. It overshadows our shenanigans in Alabama. Trump is very popular in Alabama. His victories in our GOP primary and in the November General Election were record setting vote tallies for the Heart of Dixie.
As we enter 2017, the beginning of the Trump presidency will be the news. His administration will and has already affected Alabama politics significantly. His Attorney General will be our own Senator Jeff Sessions.
Our Senior Senator Richard Shelby has had one seat for 30 years and Sessions has been in the other seat for 20 years. Therefore, this open seat is a rarity and will be coveted. By law, the Governor appoints the holder of the vacant seat, which will be for an interim time. The election for the seat will probably occur at the same time as the governor's race, which will be 17 months from now in the GOP primary in June of 2018.
The most qualified person to take the seat would be someone from our state congressional delegation, especially someone who has served in Congress from Alabama for a decade or more. The two who fit that bill and who are the most imminently qualified are Congressman Robert Aderholt and former Congressman Jo Bonner.
Aderholt, who hails from Haleyville, has represented the 4th Congressional District for 20 years. That district runs from the Mississippi line to the Georgia line across north central Alabama and includes Jasper, Cullman, Gadsden and Tuscaloosa. Aderholt got to Washington at the amazingly young age of 31. Therefore, he is only 51 years old and is our most senior and thus most powerful congressman. He is a ranking member of the powerful Appropriations Committee and is in line to be chairman soon. He would be risking a lot and probably has the same power as a freshman U.S. Senator. He is on course to follow in the footsteps of his predecessor Tom Bevill, who was referred to as Alabama's third senator.
Jo Bonner represented Baldwin and Mobile in the 1st District for over a decade. He left a couple of years ago to accept an Economic Development position at the University of Alabama. He is very well-liked and respected in Washington and was positioned for a leadership post in the GOP Congress. His erudite and sincere demeanor would make him an effective Senator immediately; he also served in the House with a third of the Senators.
The most likely to win the seat in the 2018 Election is Attorney General Luther Strange. He has run statewide three times successfully and has over a three million dollar head start name identification wise.
None of these three men have or will seek Bentley's appointment. They all realize how unpopular Bentley is and know the history of appointments in Alabama politics. Bentley could redeem some respect and relevance if he went hat in hand to President Donald Trump and offered Trump his appointment. In that case, the governor's choice would be Trump's choice. The best choice to bridge the gap may be Perry Hooper Jr., who trumped for Trump in Alabama.
See you next week.  
---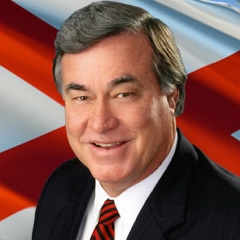 Alabama's premier columnist and commentator, Steve has analyzed Alabama politics for national television audiences on CBS, PBS, ABC and the British Broadcasting Network. Steve has been an up close participant and observer of the Alabama political scene for more than 50 years and is generally considered the ultimate authority on Alabama politics and Alabama political history.
All author posts