At the close of every year my tradition is to acknowledge the passing away of significant political players from the political stage in Alabama. We have lost some Icons from politics in the Heart of Dixie this year.  
Lucy Baxley passed away in October in Birmingham at 78. She was born on a farm in rural Houston County in the community of Pansy. She went to school at Ashford.  After graduation from high school she went to work at the courthouse in Dothan and worked for Judge Keener Baxley.  
When Judge Baxley's son, Bill, got elected Attorney General in 1970, young Bill Baxley asked Lucy to come to Montgomery to be his administrative assistant.  Eight years later she and Bill married.  She was an integral part of Baxley's first campaign for Governor in 1978.  Bill became Lt. Governor in 1982, then lost again for governor in 1986.  Soon, thereafter, Bill and Lucy ended their ten year marriage.
Lucy then began her own career in Alabama politics.  She was elected State Treasurer in 1990 and spent eight years in that post.  She was a natural campaigner. One of the best one-on-one I have ever seen. She worked the state during those eight years as Treasurer, especially among senior citizen groups.
She parlayed that campaign into being elected as the first female lieutenant governor in history.  In that 1998 campaign, she coined the campaign phrase, "I Love Lucy."  Her signs were all over the state.  Her name identification was so pronounced that her lieutenant governor's parking space simply said "Lucy."
She was the Democratic nominee for governor in 2002, but lost to Republican Bob Riley. She finished her political career by serving on the Public Service Commission. Lucy loved Alabama and folks loved her.
Judge Perry O. Hooper, Sr. passed away in his hometown of Montgomery in April at the age of 91. Judge Hooper's career paralleled the growth and dominance of the Republican Party in Alabama.  He was indeed one of the founding Fathers of the modern Republican Party in the Heart of Dixie.  He was a Republican before it was cool.  One time when he was state party chairman, Hooper would joke that he could call a meeting of the state GOP in a phone booth.
Hooper was a Marine.  His lovely wife, Marilyn, was a Montgomery native and they raised four fine boys. As a pioneer Republican he led the Goldwater landslide of the South in 1964.  That crescendo propelled him into the Montgomery Probate Judge office.  He was reelected to that post in 1970 and in 1974, he moved to a Montgomery Circuit judgeship.
Twenty years later Judge Hooper broke the ice of control that the Democrats and Trial Lawyers had over the State Supreme Court.  He became the First Republican Chief Justice of the Alabama Supreme Court. Democrats and Republicans alike noted at his funeral that during his years as a Judge he treated everyone fairly.
Jim Bennett was the longest serving Secretary of State in Alabama history. Jim passed away in Birmingham in August at age 76, shortly after being diagnosed with cancer. Jim was a writer, reporter, State Representative, State Senator and Secretary of State.
He became a reporter for the Birmingham Post Herald after graduation from Jacksonville State.  He covered the Civil Rights protests in Birmingham in 1963 and stood next to Bull Conner when he ordered fire hoses turned on protesters, including children. He once told me he interviewed George Wallace, Bull Conner and Martin Luther King in the same day.
He ran for and was elected to the state legislature in 1978.  We served together in the House.  He later moved to the Senate. He was first appointed Secretary of State in 1993.  He won the election in 1994 and served two four year terms through 2003.  He is not only the longest serving Secretary of State, but is also the only one to have been elected as both a Democrat and as a Republican.
He was a longtime member of the Jacksonville State University Board of Trustees and was Chairman of the Board when he passed away. Jim Bennett was a true public servant.
Have a Happy New Year!
---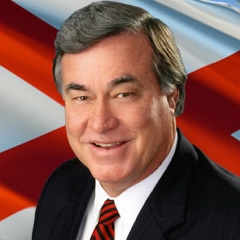 Alabama's premier columnist and commentator, Steve has analyzed Alabama politics for national television audiences on CBS, PBS, ABC and the British Broadcasting Network. Steve has been an up close participant and observer of the Alabama political scene for more than 50 years and is generally considered the ultimate authority on Alabama politics and Alabama political history.
All author posts