Alabama is going to fare wall under President Trump. There is an old adage that says, "Those that bake the pie get to eat it." We truly baked the pie for Trump. We overwhelmingly supported him in the GOP primary and helped him secure the nomination. We then gave him one of the largest mandates in the nation in the November General Election.
Trump is indeed returning the favor. He has named our own Jeff Sessions Attorney General. His confirmation hearings begin this week. In addition, speculation is that Alabama's Bill Pryor is on a very short list to be named to the U.S. Supreme Court by Trump to fill the vacancy on the Court of the late Antonin Scalia.
Pryor is a former Alabama Attorney General, who currently sits on the 11th Circuit Court of Appeals in Atlanta. Pryor is only 54. He served as Alabama Attorney General from 1997-2004. He was the youngest state attorney general in the country at that time. He was appointed to the federal bench in 2005 by President George W. Bush. During his 11 years on the federal bench he has rendered a sterling conservative record.
Pryor and Sessions have amazingly similar backgrounds. Both call Mobile their native home. Both were Attorney General of Alabama. Both have impeccable arch conservative philosophies and pedigrees. They are kindred spirits and good friends. That is probably why Pryor is on Trump's short list for the High Court.
Most of the frontrunners to win the open Sessions Senate seat have avoided Bentley's appointment. So how is the race shaking out to fill the Sessions' seat? The frontrunner out of the gate is Attorney General Luther Strange. Big Luther has run three successful statewide races and is sitting on over 50% statewide name recognition. Furthermore, he is dedicated to running and has been for 20 years. He spent the first 20 years of his professional career lobbying in Washington for Sonat. He came home 20 years ago to run for a secondary statewide office and lay the groundwork to get back to Washington as a U.S. Senator. He has been biding his time for his buddies Sessions and Shelby to retire or move on. When Sessions' appointment became imminent, Big Luther hit the ground running and has been raising money for 2018 for two months.
The other statewide elected officials will probably not join the 2018 Senate fray. Secretary of State John Merrill has a good future. He is 53 and will probably run for reelection or maybe Lieutenant Governor.
PSC President Twinkle Cavanaugh will probably run for Lieutenant Governor or maybe Governor. It is uncertain what State Treasurer Young Boozer will do. However, his tentativeness has probably left him out of the Senate race.
Agriculture Commissioner John McMillan is running for Governor. State Auditor Jim Ziegler will run for Governor, Attorney General or reelection. Roy Moore is the favorite to win the 2018 Governor's Race.
Congressman Robert Aderholt would be the best qualified to run and succeed Sessions. He and Sessions went to Washington together 20 years ago. However, his 20 years of seniority in the House has placed him in a powerful congressional leadership position. He is poised to be Chairman of the U.S. House Appropriations Committee. His move to being a freshman Senator would be a lateral move. Alabama and his district would be best served by his staying in the House.
Mobile and Baldwin County folks believe that they deserve the Senate seat since Sessions is a Mobilian. There are three potential candidates from the Port City/Gulf Coast Region. Former Congressman Jo Bonner is not going to run. Current Congressman Bradley Byrne would have the best chance to win among all the potential Mobile candidates. He was almost elected Governor. However, Byrne is probably not going to leave his safe congressional seat. He likes it and is good at it. State Senator Trip Pittman from Baldwin County is in the race and is running hard. If he continues to be the only major horse from that area in the race and it becomes a crowded field he may be in a runoff.
Speaking of regionalism, look at a horse from Huntsville to enter the race. If there is one primary candidate from the Tennessee Valley they will be a player.  Huntsville Mayor Tommy Battle may pivot and move from the Governor's race to the Senate. Folks in that area have always been more interested in national politics than state politics because of the Redstone Arsenal.
State Senate President Pro Tem Del Marsh of Anniston seems very interested in this open U.S. Senate seat. He has sought the Bentley appointment. However, being a powerful State Senator does not translate into statewide name identification.
See you next week.  
---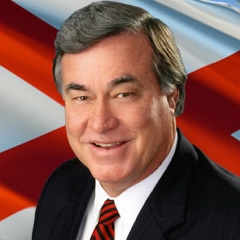 Alabama's premier columnist and commentator, Steve has analyzed Alabama politics for national television audiences on CBS, PBS, ABC and the British Broadcasting Network. Steve has been an up close participant and observer of the Alabama political scene for more than 50 years and is generally considered the ultimate authority on Alabama politics and Alabama political history.
All author posts