The most pressing problem facing the governor and legislature as they enter this new quadrennium is the financial shortfall in the General Fund Budget.
Last year the governor floated a trial balloon to see if there was any traction to combine the two state budgets in order to give more wiggle room in the budgeting of limited state dollars. It was quickly shot down.
We are one of only a handful of states that have two state budgets. We have a special Education Trust Fund Budget and a General Fund Budget. The Education Budget now dwarfs the State General Fund Budget simply because all of our growth taxes, like income and sales tax, are earmarked for education. Thus, the General Fund is left broke and barren of hope for new revenue.
The combining of the budgets does not appear to be a solution that will get off the ground any time soon. In fact, there appears to be more opposition to consolidating the two budgets than ever.
This approach has always been a red flag rallying point for all education forces. Not only are classroom teachers and administrators adamantly opposed to a raid on their money, universities in the state also get up in arms.
Senate Finance and Taxation Chairman Arthur Orr (R-Decatur) also wants to review the tax code to see if exemptions approved long ago are still needed today. The concept of looking at tax exemptions seems to be on everyone's list. A state lottery or getting some revenue from gaming is also a popular approach with most legislators' constituencies.
Recently, the Democratic leader in the House, Rep. Craig Ford of Gadsden, said that the paramount issue for House Democrats in the next term would be to thwart any effort to divert education dollars to the General Fund. In addition, not many Republicans are in favor of this path either. Most importantly the Chairmen of the Budget Committees in the House of Representatives have come out as solidly opposed to consolidating the two budgets.  House General Fund Chairman, Steve Clouse of Ozark, and House Education Fund Chairman, Bill Poole of Tuscaloosa, have stated their opposition to consolidation of the budgets.
Gov. Bentley realizes that there is a grim situation when it comes to the dilemma in the General Fund Budget. However, Bentley wants the legislative leadership to look for long-term solutions rather than a band-aid approach.
Alabama State Senate President Pro Tem Del Marsh (R-Anniston) believes that the General Fund Budget can be cut even more. Marsh also wants to look into the possibility of undoing budget earmarks. Marsh is adamantly opposed to any new taxes. However, he does want to explore who is getting the tax breaks and why.
Several yeas ago, the U.S. Congress enacted legislation to disallow lobbyists from buying them meals. They have found a way to get around that prohibition. They are simply taking campaign contributions from lobbyists and buying their own meals with their campaign money.
U.S. House members have spent a whopping $14.5 million of their campaign donors' contributions on food since January of 2011, and mind you they are not eating at McDonald's. The eateries include meals at country clubs, swanky New York hotels and exclusive Washington steakhouses.
Indeed, Washington, D.C. was the choice of most of the lavish congressional dining. Six million dollars was spent dining in the nation's capitol. Republicans were the biggest spenders on fine dining. GOP congressmen spent $9.2 million compared to $5.3 million for Democrats.
Earlier in the year it was illuminated that ex-House majority leader, Eric Cantor's restaurant expenses at luxury Washington steakhouses surpassed what his opponent, David Brat, spent on his entire campaign.  Brat used Cantor's opulence against him. It appears Congressman Brat may be heading down the same path as Cantor. His latest campaign report reveals that he used $731 from his campaign account at a Morton's Steakhouse only two weeks after vanquishing Cantor.
See you next week.
---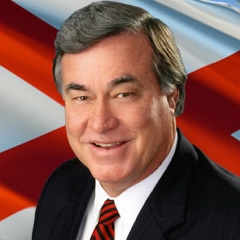 Alabama's premier columnist and commentator, Steve has analyzed Alabama politics for national television audiences on CBS, PBS, ABC and the British Broadcasting Network. Steve has been an up close participant and observer of the Alabama political scene for more than 50 years and is generally considered the ultimate authority on Alabama politics and Alabama political history.
All author posts