Dr. Robert Bentley was inaugurated Monday as our governor for the second time. He and his lovely wife, Diane, are good people.  When you get to be my age, four years goes by in a hurry. It seems like only yesterday that Gov. Bentley was enjoying his first inauguration.
I recall walking down Dexter Avenue toward my perch as a commentator for one of the Montgomery television stations, when I stopped and visited briefly with Gov. Bentley and Lt. Gov. Kay Ivey, then ran into a host of Shelby County folks.
Shelby County is consistently one of the fastest growing and most Republican counties in the state. The influx of upscale suburbanites flocking to the county is astonishing. However, I knew these Shelby Countians were the originals. The folks I visited with are deep rooted for generations in the central Alabama County that sits right in the center of the state.
Dr. Bentley is one of them. In fact, they informed me they were all kin to the new governor. They all were from Columbiana, the county seat. When Gov. Bentley was growing up in Shelby County, Columbiana was not only the county seat it was the largest town. The folks I visited with are from legendary Shelby County stock with vintage heritage.
Conrad Fowler Jr. practices law in Columbiana. He was a stellar tight end for Bear Bryant at Alabama. Bear won a couple of national championships with Conrad as his Big End. He was indeed big for that era. He was 6'5" and tough to cover.
Conrad Jr.'s daddy was Conrad "Bully" Fowler. He was a distinguished longtime probate judge of Shelby County.  Bully Fowler holds the distinction of being one of the few who ever beat George Wallace in a political race. Bully Fowler and Wallace were contemporaries at the University of Alabama. They ran against each other for President of the Cotillion Club. Bully prevailed.
Conrad Fowler Jr.'s law partner for over four decades has been Butch Ellis. Butch and Conrad have the most prominent law firm in Columbiana and Shelby County. Butch Ellis served a couple of terms in the State Senate with distinction. He is one of the friendliest and most popular men in Alabama.
Butch's daddy, Handy Ellis, was also a state senator as well as lieutenant governor. He ran second to Big Jim Folsom in the 1946 Governor's Race. Handy Ellis was the "Big Mule" candidate for governor that year and was expected to win. However, Big Jim came out of nowhere and beat him.  Butch Ellis and Gov. Bentley are related by marriage. Alabama is really just a big front porch.
Four years from now, Gov. Bentley will not be the one taking the oath as governor. Our state constitution limits our constitutional officeholders to two four-year terms.  There will be several state leaders taking their oath for the second time, who may be dreaming of and planning on being the one sworn in as governor four years henceforth.  Lt. Gov. Kay Ivey, Alabama Attorney General Luther Strange, State Treasurer Young Boozer and maybe even Agriculture Commissioner John McMillan may all be in the chase for the brass ring of Alabama politics.
You can rest assured that they are not the only ones eyeing the 2018 Governor's Race. There are several state senators as well as a couple of prominent mayors who will probably join the fray. It will be a fun four-year journey watching the 2018 Governor's Race develop and evolve.
Historically, in Alabama politics, being in the Alabama Legislature has not been a good stepping-stone to governor. In fact, Robert Bentley is the only person in recent Alabama history to move directly from the legislature to governor. Most Alabamians are probably unaware that Bentley served two terms in the legislature from Tuscaloosa County.
Being a legislator does not lend itself to garnering much statewide name recognition. At the same time, that ambitions legislator is accumulating a long voting record on tough issues that can be scrutinized and exploited.  That is why the best stepping-stone to governor has been to have never been in public office.
History has a way of repeating itself. We will see over the next few years. In the meantime, I will see you next week.
---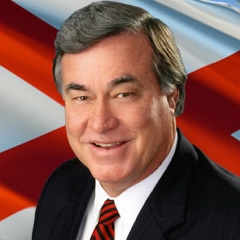 Alabama's premier columnist and commentator, Steve has analyzed Alabama politics for national television audiences on CBS, PBS, ABC and the British Broadcasting Network. Steve has been an up close participant and observer of the Alabama political scene for more than 50 years and is generally considered the ultimate authority on Alabama politics and Alabama political history.
All author posts