Throughout Alabama political history, certain cities, counties and enclaves have had a proclivity for having an inordinate number of their citizenry serve in Alabama politics. The most dominant example is the unbelievable number of governors produced by Barbour County. It is referred to as the Home of Governors.
However, currently we have a remarkable occurrence that will probably never happen again in Alabama politics. Tuscaloosa County's prominence and representation on the Alabama political stage in the year 2015 is unparalleled.
Tuscaloosa presently lays claim to Alabama's Gov. Robert Bentley and our Senior U.S. Senator Richard Shelby. Laying claim to the top two leading political figures in the state would be sufficient to make political history. However, you add to that coup the Chairman of the Alabama House of Representatives Ways and Means and Education Budget Committee, Bill Poole, is also from Tuscaloosa.  He is joined in the House by another young, outstanding state representative, Chris England. England's father is former State Supreme Court Justice and current Tuscaloosa Circuit Judge, John England. Rep. England knows more about Alabama football than the sports information office. Speaking of Crimson Tide Football, legendary Alabama linebacker, Rich Wingo, will be joining Poole and England in the Alabama House of Representatives from Tuscaloosa.
Their state senate delegation is also remarkable. Gerald Allen is their resident senator. His is joined by veteran Senator Bobby Singleton from Greensboro and one of the brightest rising stars in Alabama politics, Senator Greg Reed of Jasper, is also representing Tuscaloosa in the Alabama Senate. Very few counties this size have three State Senators.
The Tuscaloosa delegation also pulled off a coup in reapportionment when it comes to their Washington representation.  They now have Congressman Robert Aderholt representing them in Congress. Aderholt is Alabama's most powerful and senior member of Congress. He got to Washington at a very young age and if he stays the course will be an even more prominent leader in Congress in years to come.
In addition to Aderholt, Terri Sewell, who is Alabama's only Democrat in Washington, represents the southern portion of Tuscaloosa County. She has tremendous ties to the White House. She is considered a very bright rising star within the national Democratic ranks.
Having two U.S. Representatives representing one county of this size is again unheard of in Alabama politics. You add to the mix that State Civil Court of Appeals Judge Scott Donaldson is from Tuscaloosa.  Tuscaloosan John Merrill will be sworn Monday as Alabama's Secretary of State.  Folks they may as well move the Capitol to Tuscaloosa.
Another county also enjoys a remarkable story in recent years. The sparsely populated Black Belt County of Wilcox is the home to an elite number of public figures in Alabama. This county produced our Junior U.S. Senator Jeff Sessions, who was born in Wilcox County. Sessions is an extremely popular 18-year veteran of the U.S. Senate.
Lt. Gov. Kay Ivey hails from Wilcox. Kay is beginning her second term as lieutenant governor of the great State of Alabama.
University of Alabama President Judy Bonner was born and raised in Wilcox County. As was her younger brother, former 1st District U.S. Congressman Jo Bonner. Congressman Bonner served with distinction in the U.S. Congress for over a decade.
The Bonners have a long lineage in the rich political history of this county. Their forefathers were probate judges and state senators. They have family ties to Wilcox Governor Benjamin Miller, who was Governor of Alabama from 1931-1935. They also have ties to one of Alabama's most famous and effective State Senators, Roland Cooper. Sen. Cooper was known as the Wily Fox of Wilcox.
Jeff Sessions, Kay Ivey and Judy Bonner all grew up together at around the same time. Jo Bonner is about 12 years younger.
See you next week.
---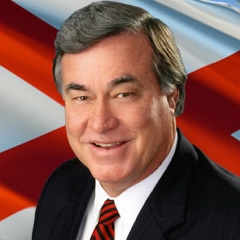 Alabama's premier columnist and commentator, Steve has analyzed Alabama politics for national television audiences on CBS, PBS, ABC and the British Broadcasting Network. Steve has been an up close participant and observer of the Alabama political scene for more than 50 years and is generally considered the ultimate authority on Alabama politics and Alabama political history.
All author posts