Last week we predicted that all three of our top constitutional officeholders will win reelection to a second four-year term in next year's election. The election will be in June next year. Since we are now a one party state when it comes to statewide political races, winning next year's June 3rd Republican Primary is tantamount to election. Folks, that is only ten months away. The actual bell to begin campaigning rang out two months ago when candidates could officially begin raising money.
Gov. Robert Bentley, Lt. Gov. Kay Ivey and Attorney General Luther Strange should have smooth sailing in their efforts to garner another four years in their posts. In addition, Sen. Jeff Sessions is a prohibitive favorite to win reelection for another six-year term in Washington.

What about the other four secondary statewide offices? Former banker, Young Boozer, is finishing his first term as Treasurer. He will have very little, if any, opposition in his bid for a second term. Boozer was the most qualified candidate to run for the office of treasurer in my lifetime of following Alabama politics. His previous experience could not have been more perfectly scripted to manage the state's treasury. Boozer has lived up to his resume and has done an excellent job as treasurer. He has put in a lot of hours. His yeoman's efforts may have salvaged the beleaguered PACT program.
Four years ago I marveled and chronicled the fact that we had candidates running for two state positions who were actually qualified for the offices they were seeking. They seemingly were aspiring to the posts for the purpose of doing the job as opposed to seeking the office in order to run for governor. One was the treasurer's race with Young Boozer. The other was the Agriculture Commissioner post.
Four years ago there were three candidates running for Agriculture Commissioner who were uniquely qualified to administer this important constitutional office. John McMillan, Dorman Grace or Glen Zorn would have been chosen for the job if their resumes had been put into a merit system register. Any one of the three would have been good for Alabama. John McMillan emerged as the winner at the polls.
McMillan has indeed done a good job under trying circumstances. His budget has been cut drastically by the legislature, along with all General Fund agencies. He will more than likely win reelection to a second term. He made sure Zorn would not oppose him by hiring him soon after the election.
The office of Secretary of State is an open seat, so to speak, in 2014. The five constitutional offices previously discussed have incumbents seeking reelection. However, Beth Chapman quit as Secretary of State with 17 months to go on her term. She was prohibited from running for a second four-year term. With an open seat, this office is receiving interest from some very well qualified men.
Rep. John Merrill of Tuscaloosa announced almost a year ago that he was running. He has been campaigning throughout the state for the past year. Crenshaw County Probate Judge Jim Perdue recently switched parties in order to run for the statewide job, which is similar to being a state probate judge. Another veteran probate judge is also in the race. Former Montgomery County Probate Judge Reese McKinney has thrown his name into the hat. These gentlemen may not be the only ones in the fray. This one is shaping up to be one of the best contests of the year.
The State Auditor's job is also wide open. Samantha Shaw has served her two-term limit like Chapman. Probably a host of aspiring young politicians will seek to run for this seemingly irrelevant position. Mrs. Shaw more than likely will not run for anything herself. She may instead simply help her husband seek reelection to his seat on the State Supreme Court. Justice Greg Shaw is the only judge on the high court up for election next year.
There are two seats on the Court of Criminal Appeals on the ballot. Judges Mary Windom and Beth Kellum should be reelected.
The Court of Civil Appeals also has two of its members up for election. Judges William Thompson and Scott Donaldson should be favored to retain their seats on the appellate court.
The most active races in the state next year will be on the local level. There will be battle royales throughout the state for the 105 House of Representative seats as well as the 35 State Senate seats. You may see some tough intra-party brawls within the Republican Party.
It will be fun to watch.
See you next week.
---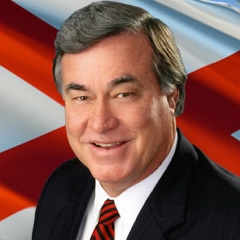 Alabama's premier columnist and commentator, Steve has analyzed Alabama politics for national television audiences on CBS, PBS, ABC and the British Broadcasting Network. Steve has been an up close participant and observer of the Alabama political scene for more than 50 years and is generally considered the ultimate authority on Alabama politics and Alabama political history.
All author posts