When Robert Bentley ran for Governor in 2010, he made a campaign promise that resonated with voters. He declared that he would not take a salary as governor until the state's unemployment level reached a certain low bar.
Bentley inherited a ship of state that was sinking. He rolled up his sleeves and went to work to bring jobs to Alabama. He has done a reasonably good job. We have led our sister states in job creations over the past two years and Alabama currently has the lowest unemployment rate in the region. However, Bentley is still refusing to take a salary.

Thus far, Bentley's crowning economic development coup is the landing of the Airbus facility for the Mobile area. It will mean 1,000 jobs when it comes to fruition in two years. The Airbus project will be the first production site on U.S. soil for the European aircraft construction company. Alabama enticed Airbus with a package of cash, tax breaks and other incentives worth about $158 million.
This Airbus triumph is unique because it introduced a new industry to Alabama. The opportunity to build the world's elite jets will broaden the state's economy the same way that Mercedes Benz did when it established the first auto assembly plant in 1997.
There are striking comparisons to the Airbus and Mercedes deals and they both cost the state a lot. We were criticized and ridiculed by every business publication for what we gave away to lure Mercedes 15 years ago. However, we are having the last laugh. The Mercedes deal has paid enormous dividends and has proven to be worth a great deal more than what we paid. Airbus has the same potential.
During the two-week announcement and follow up trip to Europe it looked not only like the state had paid a big price but it appeared that our good doctor governor had also. As he left London after a grueling nonstop eight-day excursion Bentley looked tired and haggard. His voice was raspy and his conservative suits were rumpled. In the last two days of the mission, he met with 24 different companies, conducted a dozen interviews and delivered six speeches. Bentley, who had already retired from his Tuscaloosa dermatology practice when he ran for governor in 2010, told one reporter, "I feel like a first-year resident back in med school."
However, Bentley is not complaining. The 70-year-old doctor/governor plans to run for reelection in 2014. He will be 71 at the time of the next election and, if elected, he will be 76 when he leaves office. In bygone years that seemed really old. Given today's advanced lifespan, that is not too old. Our Senior Senator Richard Shelby, who is also from Tuscaloosa, is currently 76 and he definitely plans on running for reelection in 2016.
Our two most prominent constitutional officeholders after Bentley are Lieutenant Governor Kay Ivey and Attorney General Luther Strange. They have opted to run for reelection to their current posts since Bentley is running for reelection. Ivey and Strange are not spring chickens either. Ms. Ivey is approaching 70 and Big Luther is staring 60 in the face. We used to elect boy governors. Both John Patterson and George Wallace were in their 30's when they took the reigns of state government. Times have changed.
The Governor's Race in 2014 will probably be decided in the June Republican Primary. However, hope springs eternal in the Democratic ranks. Several potential Democrats may make the race. They do not believe that the GOP nominee will simply be coronated. There are three names that seem to crop up as potential Democratic horses. House Minority Leader Craig Ford of Gadsden has been mentioned often. Also mentioned are former Chief Justice Sue Bell Cobb and retired Jefferson County Judge Pete Johnson.
Bentley's reelection numbers are currently very favorable. The polling on his trust factor is off the charts.
Believe it or not, we are less than 10 months away from the primaries. Politics never seems to end in Alabama.
See you next week.
---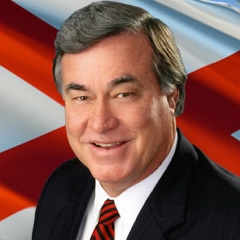 Alabama's premier columnist and commentator, Steve has analyzed Alabama politics for national television audiences on CBS, PBS, ABC and the British Broadcasting Network. Steve has been an up close participant and observer of the Alabama political scene for more than 50 years and is generally considered the ultimate authority on Alabama politics and Alabama political history.
All author posts