Last week we handicapped the 2014 Governor's Race but it is definitely not the only race on the ballot next year. In fact, all constitutional offices are up for election as well as all 140 seats in the legislature and all 67 sheriffs. Indeed, this is the big election year in Alabama.
Many states in the union point to the presidential year as their big year. They have their governors running concurrently with the president. That is not the case here in the Heart of Dixie. Our founding fathers appear intuitive in retrospect. They somehow perceived that we would be more interested in who is our governor, sheriff or state representative than who is president when they put all of our good races in our gubernatorial years.

Historically, more people have shown up to vote for governor than president in Alabama. So what do we have to look forward to next year besides the governor's race?
It has gone completely under the radar but our junior senator, Jeff Sessions, is up for election next year. Sessions will probably only have token opposition. He has voted lockstep with most Alabama voters on all issues since his arrival on the Potomac.
Sessions is considered one of the three most conservative senators in Washington. That is appropriate since we are one of the most conservative states in America. He is a safe bet to return to the senate for another six years.
In the past the job of lieutenant governor was a very powerful post in state politics. They not only presided over the state senate, they actually controlled this important decision making institution. The lieutenant governor appointed all the committees, assigned all the bills and controlled the flow of legislation. That power was withdrawn in the 1990's and taken back by the senate. The president pro tem of the majority party now holds that power. That is Senator Del Marsh. The lieutenant governor still has the gavel as well as a significant staff to use to run for reelection. Kay Ivey has taken to this role effectively. She is in a good position to garner a second term.
The best launching pad to land in the governor's office or the U.S. Senate is from the office of attorney general. Luther Strange is in good shape to win a second four-year term as attorney general. Luther spent the first two decades of his career as a Washington corporate lobbyist. Therefore, those who know him best believe that his ultimate ambition is to take a seat in the U.S. Senate. He developed a close friendship with both Senators Richard Shelby and Jeff Sessions during his Washington years. The problem Luther has is that neither Shelby nor Sessions have any plans to retire anytime soon.
Sessions is a prohibitive favorite to win reelection this year and Shelby has made it clear that he has no intentions of retiring. He has already said he plans to seek reelection in 2016. He adheres to the old saying that was delivered by veteran stalwart southern senators of bygone years, "I'm only leaving Washington by one of two routes – by the ballot box or in a pine box." The latter is the likeliest route for Shelby.
Big Luther is not a spring chicken. He is fast approaching 60 and that is not the optimum age to embark on a senatorial career. Given the importance of seniority in Washington, he would never really be able to be a player. The 2018 Governor's Race is probably Luther's logical route, assuming he wins reelection as attorney general this year. As the state's top prosecutor he has stepped on some big toes. However, he should be a safe bet for reelection.
Last week we looked at the governor's race. This week we discussed the reelection chances of lieutenant governor and attorney general. My assessment thus far is that Gov. Robert Bentley, Lt. Gov. Kay Ivey and Attorney General Luther Strange are in good shape to win reelection next year.
Next week we will look at the offices of treasurer, agriculture commissioner, secretary of state and state auditor. In addition, we have a couple of state judicial contests on the menu as well as the all important legislative races.
See you next week.
---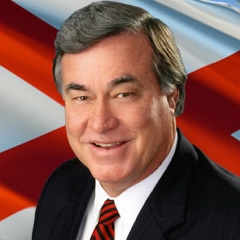 Alabama's premier columnist and commentator, Steve has analyzed Alabama politics for national television audiences on CBS, PBS, ABC and the British Broadcasting Network. Steve has been an up close participant and observer of the Alabama political scene for more than 50 years and is generally considered the ultimate authority on Alabama politics and Alabama political history.
All author posts