Believe it or not the 2012 election season is upon us. The legislature, in a cost savings measure last year, moved our primaries up to March 13. Our presidential preference primary and our regular primary will be on the same day, which is less than six weeks away.
Most of the contests this year will be for judicial posts. Five of our nine Supreme Court seats are up for election, along with several appellate court positions. One of the three public service commission offices, the presidency, is also on the ballot.
All seven members of our congressional delegation have to run every two years. Therefore, they are always running. Our delegation to Washington is made up of six Republicans and one Democrat. We have two females and five males. All seven are seeking reelection to Congress.

As the deadline for qualifying ended on January 13, the biggest surprises were the number of opponents that our incumbent congresspeople picked up. Incumbent congressmen win reelection at an over 90% rate. The odds are over 95% that an incumbent Republican congressman will win reelection in a GOP primary. Republican voters tend to stay with a known commodity more than Independent or Democratic voters. Therefore, the biggest shock to the early campaign season was the amount of opposition that veteran 6th District Congressman Spencer Bachus drew in his eleventh campaign for congress.
Bachus' district encompasses the suburban enclaves of Jefferson, Shelby, Blount and Tuscaloosa counties. It is one of the most Republican congressional districts in the nation. Bachus will be favored to win. He has represented the district for almost 20 years and has a million dollar campaign war chest. However, he finds himself facing five fellow Republicans. All five appear to be willing to disregard the adage made famous by Ronald Reagan, "speak no ill of another Republican."
The only theory as to the onslaught of opposition is that these challengers sense that Bachus may be vulnerable due to a recent expose by 60 Minutes that featured and centered on Bachus. He is the senior member of our Potomac delegation and has risen to the chairmanship of the Financial Services Committee. In that position he has access to private financial information. The CBS show insinuated that Bachus took advantage of that privileged information to guide his personal investments.
Two of Bachus' opponents would be categorized as serious. Gardendale State Senator Scott Beason and Blount County Probate Judge David Standridge are not political novices. Both men have strong political bases of support in the district. Three other candidates will get some support. Tuscaloosa businessman Stan Pate could spend some money and become a factor. Al Mickle of Alabaster and Justin Barkley are also running.
If indeed Bachus prevails he has to face a Democrat in the fall. Either retired Air Force Colonel Penny Huggins Bailey of Leeds or defense lawyer William Barnes of Birmingham will be on the ballot in November. Although Bachus will probably prevail, his million dollar war chest may be depleted and he will bare a few scars.
The other interesting race will be the 5th District Tennessee Valley / Huntsville seat. A rematch between first term Congressman Mo Brooks and former U.S. Representative Parker Griffith is on the agenda. They were pitted in a close race two years ago and the only reason Brooks won was because he was a Republican and Griffith a Democrat. They are both running as Republicans this year. This one could be worth watching.
The other GOP congresspeople, Jo Bonner, Martha Roby, Mike Rogers and Robert Aderholt only have token Democratic opponents and should coast to reelection.
The lone Democrat, Terri Sewell, escaped Democratic opposition. She has one of the most Democratic districts in the country making it likely she will return to Washington next year.
There is an unusually high number of candidates for congress in the state for a cycle when none of the seven seats are open. It should make for a more interesting year than anticipated.
See you next week.
---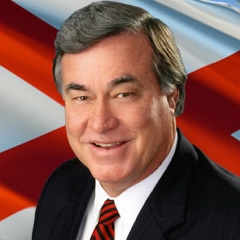 Alabama's premier columnist and commentator, Steve has analyzed Alabama politics for national television audiences on CBS, PBS, ABC and the British Broadcasting Network. Steve has been an up close participant and observer of the Alabama political scene for more than 50 years and is generally considered the ultimate authority on Alabama politics and Alabama political history.
All author posts