The 2012 Regular Session of the Legislature begins this week. The Republican majority House and Senate produced a prolific amount of conservative legislation in their inaugural session of the quadrennium last year. Included in their initial year was a controversial immigration law, a voter identification law, anti abortion legislation and tort reform legislation just to name a few. They also dealt with congressional reapportionment. It was an extremely productive session. It will be interesting to see what they do for an encore.
One of the foremost issues will be to deal with their own legislative district lines. They will have to redraw all 105 House districts and 35 State Senate districts to correspond with population changes occurring from the 2010 census. This project could be controversial. However, they may be able to handle it as easily as they did congressional redistricting.

Inherent in the process is a natural alliance between Republicans and African American Democratic legislators. It generally benefits each of these groups to corral their natural constituents into congruent districts. Thus making their respective districts even more Republican or more Democratic. This probable course of action works to continue the slow death of the white Democrat, who is gradually becoming a dinosaur in the Deep South.
The paramount issue this year will be dealing with the state budgets. The budgets that the legislature will be crafting this session are for fiscal year 2013, which begins on October 1, 2012. The Legislative Fiscal Office and the governor's office are forecasting the most difficult financial picture seen since the Great Depression. Gone are federal stimulus dollars used to avoid Armageddon for a couple of years. This year the chickens truly come home to roost.
Both the Education Trust Fund Budget and the General Fund Budget projections are bleak. However, the Governor believes the General Fund faces the most devastating disaster. In fact, Gov. Bentley was going to propose a bold initiative. The good doctor, who is still working without a salary, was going to try something that George Wallace and Fob James offered in the 1970's. Both were soundly denied. Bentley wanted to offer a constitutional amendment to dissolve the Education Trust Fund Budget and allow Alabama to work with one state budget. Bentley tested the waters thoroughly on this proposal and found there were not many takers. In the fall he said, "no one is sacrosanct. Education is not sacrosanct. We have to look at the entire state to see where we use taxpayer dollars."
After floating the idea for several months and talking with legislators, Bentley found very little support. He has decided that discretion is the better part of valor. He will join Wallace and James and other governors who have tried but failed in this one budget approach.
The General Fund is facing at least a $400 million shortfall in the 2013 fiscal year. That would be a 22% cut from this year's General Fund Budget, which is $1.77 billion. The Education Trust Fund Budget is $5.59 billion.
Alabama is only one of a handful of states that works with two budgets. Over 40 of the 50 states have one General Fund Budget. The National Conference of State Legislatures also ranks Alabama first among the 50 states in the percentage of state taxes reserved for specific uses.
Alabama earmarks an amazing 84% of state taxes for specific purposes. This makes maneuvering in this financial recession very difficult for legislators.
Along with the governor's one budget idea, he also plans to float the selling of $2 billion in bonds for the largest road and bridge construction program in state history. He will also propose starting a limited number of charter schools in the state. This measure, along with the one budget idea, will be met with fierce opposition from the Alabama Education Association.
House Speaker Mike Hubbard has said that the House will concentrate on business friendly legislation. He said, "The end goal is to create jobs and get this economy turned around."
The Session began Tuesday and will end in late May.
See you next week.
---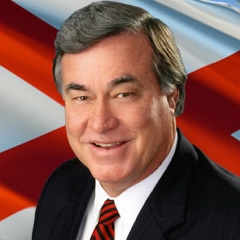 Alabama's premier columnist and commentator, Steve has analyzed Alabama politics for national television audiences on CBS, PBS, ABC and the British Broadcasting Network. Steve has been an up close participant and observer of the Alabama political scene for more than 50 years and is generally considered the ultimate authority on Alabama politics and Alabama political history.
All author posts