The second round of the gambling corruption trial begins this Monday in Federal Court in Montgomery. Last year's first trial ended in a victory for all defendants. A jury of 11 women and one man quickly returned not guilty verdicts on 91 charges and could not reach a unanimous decision on 33 charges. Two defendants, Montgomery State Senator Quinton Ross and lobbyist Bob Geddie, were cleared of all charges. The remaining seven defendants go on trial Monday. The odds favor their acquittal.
In the first trial the defendants' lawyers were so confident that the prosecution had failed to make a case that they never even offered any rebuttal testimony. The 91 to 0 score proves that they were correct in their course of action. The federal government spent millions of taxpayer dollars, used every trick in the book, and spent weeks offering testimony and witnesses and still got embarrassed by the decision.

The prosecution asking for another trial is analogous to a football team, which used its best plays and players but still lost 91 to 0, asking for a rematch with the team that dominated them without even using its first string. Furthermore, the odds have even gotten worse for the prosecution. A federal judge ruled that former Gov. Bob Riley must testify. Along with Riley will be his former cabinet members and campaign lieutenant Bill Johnson. Johnson has presented evidence to U.S. Attorneys and the FBI and will testify that Riley's 2002 campaign for governor received $3 million laundered and funneled from the Mississippi Choctaw Indians.
This assertion is pretty much common knowledge. There was some testimony to the same effect during Senator John McCain's Indian casino corruption hearings in Washington. The FBI testified that Indian gambling money went to the Alabama governor's race to inhibit gambling expansion by Alabama entities.
Convicted Indian gambling lobbyist Jack Abramoff, in his recently released book, "Capitol Punishment," writes that over a five year period the Mississippi Choctaws spent $20 million in Alabama to fight the expansion of gambling in our state. Abramoff and his partner Michael Scanlon were both convicted in the Indian gambling scam in what has been called the largest corruption scandal in the nation's history. Scanlon worked for Riley when he was a congressman.
This new trial could develop into a colorful show. Defense attorneys will be able to show jurors that the entire episode and trial are simply politics. Riley was on the side of the Indian gambling interests and fought to preserve their monopoly. Milton McGregor and his Alabama gambling interests wanted to be able to compete with the Indians on a level playing field. Both sides gave money in the form of political contributions to their political allies. Neither side offered personal bribes. Giving campaign contributions to your friends is not illegal. If it were the feds did not have to come all the way to Alabama to indict folks. They could have just walked down the street and indicted all 435 members of congress.
One of the jurors in the first case granted an interview after the first trial. She is a rural mail carrier in Covington County. She said the federal prosecutor told the jury in his opening statement that wiretapped phone calls and secretly recorded meetings would tell a story of greed and corruption in Alabama but she continued by saying the tapes never lived up to their billing. It just looked like politics. She said from the very beginning when listening to the tapes, "Surely this cannot be all they have. I kept waiting and waiting."
This trial should be more interesting and entertaining than the last but will probably conclude with the same result.
See you next week.
---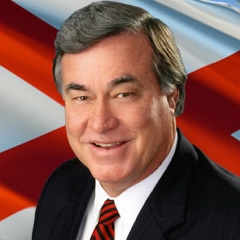 Alabama's premier columnist and commentator, Steve has analyzed Alabama politics for national television audiences on CBS, PBS, ABC and the British Broadcasting Network. Steve has been an up close participant and observer of the Alabama political scene for more than 50 years and is generally considered the ultimate authority on Alabama politics and Alabama political history.
All author posts