This year's Supreme Court races have been obscured by the more high profile Governor's and Lt. Governor's races. They generally are low profile even though they are extremely important and the justices who hold these positions wield substantial influence over public policy in Alabama. They probably are as insignificant as the secondary constitutional offices of Treasurer, Secretary of State and Auditor to the average Alabama voter. However, they are much more powerful and important than these administrative offices. If the truth be known, if you took a poll of Alabama voters one week after they had voted for Auditor or a Supreme Court seat not 5% of the voters could tell you who the Auditor or Justice was nor whether they had even voted for them or their opponent.
In recent years the Alabama Supreme Court has become all Republican. In fact, currently all nine of the members of the Court run under the Republican banner. However, there is now a chasm within the Republican ranks and this dichotomy within the Republican Party has caused bad blood within the Court among the Republican family. The extreme right wing's primary advocate on the Court is Tom Parker. Parker and Roy Moore are close allies.
Parker has caused some major ripples within the all Republican Supreme Court. Earlier in the year he went beyond unprecedented protocol by writing an open letter to the editor, published in the Birmingham News, openly criticizing his fellow Republican judges for a decision they rendered. Two of Parker's attacked colleagues on the Court shot back. Justice Mike Bolin labeled him an "activist" and Justice Tom Woodall called him "deceitful."
Woodall and Parker have gone into full scale warfare over the Parker op-ed article. Woodall unloaded on Parker admitting that he "cussed him out," stating "I think I was the only justice who actually called Parker to cuss him out, but we were all mad. It was cowardly and deceitful and a whole lot of words I won't say." Finally Woodall took a final slap at Parker by stating, "He doesn't handle his cases, he just lets them pile up. He's apparently so busy conspiring against the rest of the Court that he doesn't have time to be a judge."
Parker further continued his right wing theatrics when he brazenly attacked the induction of famous Alabama U.S. Supreme Court Justice Hugo Black into the Alabama Lawyers Hall of Fame, even though the 72 member governing board of the State Bar voted unanimously to induct the legendary jurist.
Parker in turn was also instrumental in getting Woodall a Republican opponent in the just completed Primary. Hank Fowler, a Roy Moore ally was Woodall's opponent. Woodall prevailed, but it caused Woodall a great deal of consternation even though it was not a close race. Woodall did not limit his comments to just Parker. He did not mince words about Roy Moore, saying "Roy never had much interest in the law. I'd say he has an average legal mind. He's got enough of a legal mind to know that a lot of what he says isn't true. I sometimes think Moore has said it so much he's starting to believe it, but it's all gibberish."
Moore also openly crossed swords with revered Justices Gorman Houston and Champ Lyons. Parker and Moore also got Lyons a Republican Primary opponent, Ben Hand. Lyons prevailed but had to work hard to overcome the intra party assault from the right.
In the just completed GOP Primary, Parker fielded a slate of candidates aligned with him and Moore. They even advertised as a team. He sought to defeat incumbents Tom Woodall, Lyn Stuart and Champ Lyons, and he himself ran against Drayton Nabers. Parker's efforts were dismally unsuccessful. Woodall and Stuart trounced their opponents by 72% to 28% margins, and Lyons and Nabers were victorious with 61% to 39% advantages. Parker and his wing lost but Parker had a free shot at Nabers because he is one of the sitting nine members of the Court and his seat does not come up for four more years. Therefore, his efforts to get his fellow judges opponents will undoubtedly leave the Court further divided and acrimonious.
The Supreme Court may be all Republican, but it is not a happy functional family. Family feuds are usually the fiercest.
---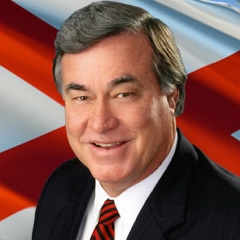 Alabama's premier columnist and commentator, Steve has analyzed Alabama politics for national television audiences on CBS, PBS, ABC and the British Broadcasting Network. Steve has been an up close participant and observer of the Alabama political scene for more than 50 years and is generally considered the ultimate authority on Alabama politics and Alabama political history.
All author posts