If there was one surprise race in the June 6th primaries it was in the Republican Lt. Governor's contest. However, polls indicated three weeks earlier that an upset was in the making. George Wallace Jr. entered the race as the heavy favorite in a race where inherent name identification is very important. However, he did not foresee the Alabama business community giving a blank check to Big Luther Strange in that race. That money propelled Strange to a big vote. In fact he beat Wallace so badly that there was barely a runoff. Strange outdistanced Wallace 48% to 34% with Mo Brooks garnering 16%, mostly Tennessee Valley votes. This lead may be insurmountable for Wallace to overcome in the July 18 runoff, especially because Luther Strange has all the money and momentum. Wallace's inability to raise money has been his Achilles heel in all of his major races. He has lost two previous contests one Lt. Governor and one for Congress where he was outspent.
A Luther Strange victory does not bode well for Democrat Jim Folsom Jr. who entered the race at the last minute after seeing polls that he could beat George Wallace Jr. in a head to head race. Folsom also felt like he could get significant financial backing from the business community against Wallace. This will not be the case if Strange is his November opponent. Strange is obviously the darling of the business community. A Luther Strange vs. Jim Folsom November horserace should be handicapped as a dead heat.
Troy King, Riley's appointed Attorney General, had a very impressive victory over his GOP opponent Mark Montiel. In contrast, his Democratic opponent in the November general election, Mobile District Attorney John Tyson Jr., had an unimpressive win over a nut candidate. Tyson only defeated avowed atheist Larry Darby 55% to 45%. This King vs. Tyson race should be a tossup in the fall.
The court races were all in the Republican Primary. Our Supreme Court is now all Republican. The major Democratic challengers were unopposed in their primaries. The Republican judicial contests boiled down to a classic big business vs. religious right wing contest with the business community putting a lot of money on the incumbent Republican judges and it paid off. They all won big. The business slate was headed by Riley appointed Chief Justice Drayton Nabers who beat Roy Moore chief disciple Tom Parker 60% to 40%. Incumbent Champ Lyons beat Moore candidate Ben Hand 60% to 40% and Justice Tom Woodall and Lyn Stuart trounced their right wing opponents with 72% to 28% margins in the Primary.
One of the most impressive judicial wins was Glenn Murdock's 62% victory over two strong female opponents to capture the GOP nomination for the only open seat on the Supreme Court. He will face Democrat John England in November for retiring Bernard Harwoods seat. It will be interesting to see if a Democrat can penetrate the solid 9 out of 9 Republican hold on the State's highest court.
Perry Hooper Jr. led the Republican field for the open PSC seat held by George Wallace Jr. who had to opt to run for reelection to the PSC or seek the Lt. Governor's post. If Wallace Jr. loses to Strange on July 18th he will be out of a job. Hooper will face-off against former Jefferson County State Senator John Amari in the runoff. Hooper benefited from the popularity of his father, Perry Hooper Sr., to lead with 40% to Amari's 32% and Jack Hornady's 28%. Hooper Sr. has been a Republican leader for decades when it was not popular to be a Republican. He was also the first Republican elected as Chief Justice of the Alabama Supreme Court. Perry Hooper Jr. should prevail in the runoff in July but will face a tough opponent in Democrat Susan Parker in the November general election, who is a former State Auditor and U.S. Senate candidate. This race will be worth watching.
---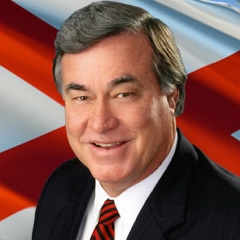 Alabama's premier columnist and commentator, Steve has analyzed Alabama politics for national television audiences on CBS, PBS, ABC and the British Broadcasting Network. Steve has been an up close participant and observer of the Alabama political scene for more than 50 years and is generally considered the ultimate authority on Alabama politics and Alabama political history.
All author posts