An issue sidestepped this year, which will resurface in the future, is whether state judges should be appointed or elected. Alabama is currently one of only seven states in the country that elects judges.
The Alabama Bar Association has endorsed a plan which is a quasi-appointment concept. The Bar's proposal is similar to systems used in sixteen other states which would remove partisan politics from the process. Under their plan a screening committee of lawyers and non-lawyers would make recommendations to the Governor who would then make an appointment from the three recommended individuals.
Instead of seeking election in a partisan contest, the appointed judge would instead face a retention election at the end of their term. Alabama voters would then vote to keep or remove the judge. If they vote to remove, then the appointment process begins again.
The Democrats favor this plan. The Republicans oppose it. The reason is obvious. Prior to 1990 all of the Supreme Court and appellate court judges were Democrats. There has been a complete reversal in less than two decades. Republicans now hold every seat on the Alabama Supreme Court and Alabama Court of Appeals and all but one seat on the Alabama Court of Criminal Appeals. With this 18 to 1 margin the Alabama Republican Party is determined to kill the Bar Association's proposal.
The change occurred because of the tort reform battle waged during the 1990s. Alabama became the battleground for a classic trial lawyer vs. big business battle. Renowned and embattled presidential advisor Karl Rove was the brain behind the business Republican takeover. He had previously orchestrated the same success for business in Texas prior to coming to Alabama.
Between 1993 and 2004 Alabama led the nation in campaign fundraising by Supreme Court candidates at $41.1 million, according to Justice at Stake, a Washington based group that tracks spending in judicial races. Texas was second at $27.5 million and they are five times bigger than we are as a state.
In the nine states that had contested races for their top court in 2004, candidates raised more than $34 million. In the 10 states with retention elections for their top courts, candidates raised less than $100,000 combined. This is proof that the proposed Bar Association retention plan would remove partisanship and big money from our court system.
Bar Association President Bobby Segall says, "The vast amounts of money spent in appellate court judicial elections, mostly derived from special interests contributions, has eroded respect for and confidence in Alabama's judiciary." House Republican Caucus Chairman Mike Hubbard counters saying, "In essence the Bar Association is telling the people of Alabama that they are too dumb to elect the judges that serve them." A moderate voice, retired Justice Gorman Houston, says "We don't need to elect judges based on bumper stickers and more than that on a 30-second ad on television that says nothing."
A compromise might be to do away with elected judges on all levels. This would negate the GOP's argument that they are being singled out. There are a lot more Democratic district and circuit court judges throughout the State than Republicans. That is why the Democrats only support removing election of state level judges. This discussion will continue.
The conviction of former Gov. Don Siegelman in Montgomery federal court last week probably brings to a close a political career of epic proportions in Alabama political history. Siegelman is second only to George Wallace in political longevity and success. Siegelman was elected five times statewide to the offices of Secretary of State, Attorney General, Lt. Governor and Governor. Whether you like Siegelman or not, you have to respect his fortitude and tenacity during this fight. If by some miraculous reason he is successful on appeal you can bet your bottom dollar that you will see his name on the ballot again. He is like a cat with nine lives, however all nine may finally be used up. I have to believe that one of the reasons Siegelman lost was due to the fact federal prosecutors coupled his indictment with the much despised Richard Scrushy. Ninety-five percent, or more, of all Alabamians believe that Scrushy is a crook of the greatest magnitude in corporate history. They believe it was an unbelievable travesty that he was not convicted in the Birmingham trial and sent to prison for life.
---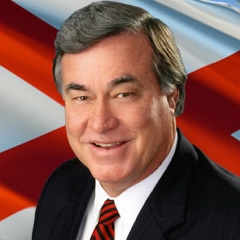 Alabama's premier columnist and commentator, Steve has analyzed Alabama politics for national television audiences on CBS, PBS, ABC and the British Broadcasting Network. Steve has been an up close participant and observer of the Alabama political scene for more than 50 years and is generally considered the ultimate authority on Alabama politics and Alabama political history.
All author posts