The Alabama Boys State and Girls State programs have been the spawning ground for Alabama political leaders for generations.  It is a marvelous civic contribution that the American Legion has sponsored for almost a century in our state.
The prominence that Boys State has played is immense. However, Girls State may very well be eclipsing the boys in this generation, given the amazing array of women who are currently leading our state.
Governor Kay Ivey was a young high school leader growing up in Wilcox County in the early 1960s.  Kay was selected for Girls State and had a week there that left an indelible impression on her.  She went on to Auburn where she was a student leader.  For over 40 years, Kay Ivey has come back to Girls State every year as a counselor, advisor, and speaker.  She is devoted to Girls State.
Dr. Cathy Johnson Randall has been one of the states most respected leaders for 50 years.  She was the most outstanding student at the University of Alabama when I arrived in 1970.  She graduated undergraduate and got her doctorate from the Capstone.  
In her early career years, she was an administrator at the University of Alabama.  She has been a premier businesswoman and philanthropist and Tuscaloosa Civic leader in her adult life.  As a teenager, Cathy was a Girls Stater to say the least.  She was elected Governor of Girls State.  She then went on to Washington and was elected President of Girls Nation.  Furthermore, her daughter Kate was elected Governor of Girls State like her mother and – get this – Kate was also President of Girls Nation.  Cathy's late husband and Kate's father, Pettus Randall, was Governor of Alabama Boys State.  It is doubtful any family in America much less Alabama, will ever match that family lineage.
Cathy Randall and Kay Ivey took a young lady from Enterprise under their wings when she arrived at Girls State.  That student leader was one Katie Boyd.  Katie became Governor of Girls State.  She then went on to the University of Alabama and pledged Cathy Randall's sorority, Chi Omega. Katie was elected Student Government President at Alabama, then married Crimson Tide Football star, Wesley Britt.  Last year Katie Boyd Britt was elected as our United States Senator at the ripe old age of 40.
The list of Girls Staters that are current state leaders does not end with Governor Ivey, Senator Britt and Dr. Randall.  Supreme Court Justice Kelli Wise was a Girls Stater, as well as past Justice Lyn Stuart. Federal District Judge Anna Manasco is a Girls State alumnus from around the same era as Kelli Wise. Mary Margaret Carroll from Ozark, who is one of the state's top lobbyist, was a Girls Stater with Katie Britt and a Chi Omega with Katie at Alabama.  She was also President of the SGA at the University of Alabama.  Liz Filmore, Kay Ivey's Chief of Staff, got her start at Girls State.
Many of these women have bonded through the Girls State program.  Especially Kay Ivey, Cathy Randall and Katie Britt.  They are like sisters. The fourth sister in this close knit group is Lee Sellers of Montgomery.  Lee grew up in Montgomery and has lived there all of her life.  She was a prominent Girls State leader as a teenager.  She became Executive Director of Alabama Girls State 21 years ago.  She and her husband, Supreme Court Justice Will Sellers, are some of Kay Ivey's closest friends. Lee is the glue that keeps this band of Girls State Alumni together.  
Lee will more than likely bring this group of state leaders back to welcome this year's group of teenage Girls State leaders when they arrive next week to Troy University for the 81st meeting of Alabama Girls State.  There will probably be a future senator or governor in attendance.
Our current governor, Kay Ivey, is the first elected female Republican governor of Alabama. She will not be the last female to be elected governor of our state. In the future, my prediction is that there will be mostly female governors and presidents in future years. It is a fact that the majority of college enrollees and graduates are female.
The reason most future governors and presidents, and probably Supreme Court justices, will be women is because currently 60% of law school graduates are females and this is expected to grow to 70% in the next decade.
See You next week.
---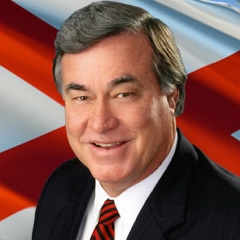 Alabama's premier columnist and commentator, Steve has analyzed Alabama politics for national television audiences on CBS, PBS, ABC and the British Broadcasting Network. Steve has been an up close participant and observer of the Alabama political scene for more than 50 years and is generally considered the ultimate authority on Alabama politics and Alabama political history.
All author posts