It is hard to imagine that it was only a little over 100 years ago that women were given the right to vote in the United States.  The 19th Amendment to the Constitution giving women full suffrage was finally ratified in 1920.
In recent decades, many folks have lamented that there are very few women in elected office in Alabama, especially in the legislature.  We do indeed have a low percentage of female legislators, most particularly in the Republican ranks.  We have some high-profile female statewide officeholders.  Governor Kay Ivey, PSC President Twinkle Cavanaugh and Supreme Court Justices Kelli Wise and Sarah Stewart, to name a few.
Some of the more progressive states have ridiculed our lack of female political participants.  However, history will reveal that we in Alabama were electing women to statewide offices many years before other so-called progressive states.  In fact, women dominated the offices of Secretary of State, State Treasurer and State Auditor for several decades during the 1960s and 1970s. My first observations of Alabama politics were watching women swap out the State Treasurer and Secretary of State posts every four years. In fact, these constitutional offices were considered women offices.
In 1944, Governor Chauncey Sparks appointed Sybil Pool as Secretary of State.  Two years later, in 1946, Pool won the office, overwhelmingly, and became the first woman in Alabama history to be elected to a statewide office.  In that 1946 race, Pool carried 63 out of 67 counties.  Four years later, in her victorious run for State Treasurer, she received the largest vote in state history.  In 1954, she was elected to the first of four terms on the Public Service Commission.
Prior to Pool's first statewide victory, she had served in the legislature for two terms from her native Marengo County.  She was only the second woman elected to the Alabama Legislature, in addition to being the first woman elected statewide.  All-in-all her political career included eight years as Secretary of State, four years as State Treasurer and 16 years on the State Public Service Commission. Sibyl Pool was way ahead of her time, and she opened the political door for women to walk through in Alabama.
Mary Texas Hurt Garner of Scottsboro was a lawyer by profession and an Assistant Attorney General before being elected Secretary of State in 1954.  She then went on to become State Auditor in 1958.  She was elected State Treasurer in 1962.
Annie Laura Gunter held several prominent cabinet positions in the Wallace Administration. Afterwards, Gunter was elected State Treasurer of Alabama in 1978 and served eight years in that important state office.
Melba Till Allen was one of 10 children, who grew up modestly on an Alabama farm. She rose to be elected as State Auditor and then was elected State Treasurer for two terms.
Mabel Amos and Agnes Baggett were household names in Alabama for decades. Agnes Baggett was probably the most prominent and profiled female officeholder in state history after Sybil Pool. She served as Secretary of State from 1951-1955.  She was then elected State Auditor in 1955, State Treasurer in 1959, and returned to Secretary of State in 1963.  In 1967, she was elected again as State Treasurer and served eight years in this post.  She finished out her career as Secretary of State, thus capping a career that made history.  She served 28 consecutive years as an elected statewide officeholder, making her one of the most celebrated elected officials in Alabama history.
Mabel Amos was one of the most beloved and revered women in state politics. She had an amazing career as the recording secretary for six governors, including Frank Dixon, Chauncey Sparks, James Folsom, Gordon Persons, John Patterson, and George Wallace. There is no telling what secrets and political deals Ms. Mabel knew of during this unbelievable 30-year reign inside the governor's office. She was elected Secretary of State in 1966, and served eight years in that office.  She was a native of Conecuh County and never married. Therefore, she had no direct heirs. When she died, she had a sizeable estate, primarily of family land. Because she had no children, the beloved lady left her estate with instructions that her money should be used for deserving Alabama female students, who otherwise would not be able to attend Alabama colleges. 
See you next week.
---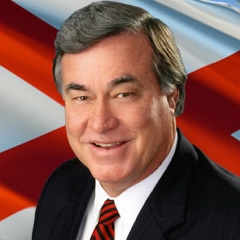 Alabama's premier columnist and commentator, Steve has analyzed Alabama politics for national television audiences on CBS, PBS, ABC and the British Broadcasting Network. Steve has been an up close participant and observer of the Alabama political scene for more than 50 years and is generally considered the ultimate authority on Alabama politics and Alabama political history.
All author posts