Many of you may be surprised to know that politicians and preachers are often friends while on earth. They actually run in the same circles in their communities as well as around the state. It has been my pleasure to have known a good many Godly ministers.
During my lifetime here in our beloved state of Alabama, there have been some outstanding ministers, but three men stand out as legendary and will go down in the annals of Alabama history as the three greatest preachers of this generation. All three were Alabama born and bred.  They had to have been born and chosen for their calling.  Just to be in their presence makes you feel special.  They are truly men of God.  They are also true southern gentlemen with a keen sense of humility.  These three ministers are Methodist Minister John Ed Mathison, Methodist Minister Karl Stegall, and Baptist Minister Buddy Gray.
I will begin with the youngest first. Buddy Gray has been the pastor of the mega Baptist Church in Hoover – Hunter Street Baptist Church – for nearly 36 years.  Buddy Gray built this mountain of a church in the heart of Hoover.  He is beloved by his throng of congregates.  He exudes love and humility.
Buddy Gray grew up in Prattville.  He knew at 16 that God was calling him to the ministry.  He started preaching at rural churches and along the way he served as youth pastor at Hunter Street Baptist Church in Birmingham in the 1970's.  Hunter Street was in a dying section with an attendance of 120.  Soon after they called Buddy to be their minister, he had the foresight to see that his church needed to be in Hoover, the fastest growing suburban area of Jefferson County.
Today, 36 years later, Buddy's vision is a sprawling landmark campus with a congregation of 4,500 active members.  It is one of the largest and most prosperous churches in Alabama. Leaders in the Southern Baptist Convention refer to Hunter Street Baptist Church as one of the greatest churches in America.
During his career, Buddy Gray has served at the state and national level of the Baptist Convention including two one-year reigns as President of the Alabama Baptist State Convention. He and his wife, Tricia, have been a true team in the evangelical building of this great church.
Dr. John Ed Mathison of Montgomery has rightfully been referred to as one of the greatest preachers in the history of the State of Alabama. He was born a Methodist minister.  His father was a legendary Methodist minister, and his brother is a legend in his own right as a Methodist minister.
John Ed served 36 years as Senior Minister of Frazer Methodist Church in Montgomery.  Under his leadership, Frazer grew from 400 members to 9,000 and had the largest Sunday School attendance for any Methodist church in America.  At the time of John Ed's retirement in June 2008, Frazer had eight Sunday morning worship services and its services were televised nationwide reaching about 40 million homes.
John Ed has been a sterling athlete over his lifetime.  He was an all-state high school basketball player and an outstanding basketball player at Huntington College.  He was consistently ranked #1 in his age division in tennis in Alabama and is in the Alabama Tennis Hall of Fame.  He continues to write. I am proud to say that for the last decade his column and mine have been adjacent to each other in the Montgomery Independent.
Dr. Karl Stegall is a legend within the Alabama Methodist Church hierarchy. He is one of the best known and most loved Methodist ministers to serve in Alabama over the past 50 years.  Stegall served with distinction at four separate Methodist churches in Alabama. He culminated his ministerial career as pastor of the First Methodist Church of Montgomery. He served as senior minister of this great traditional Methodist church in Cloverdale for 24 years.
Dr. Stegall remains extremely involved in Montgomery Civic affairs.  He is an erudite gentleman with impeccable class and manners.  He has the most melodious Black Belt southern accent.  He is an avid sports fan and a great Alabama historian.  He has a myriad of talents and uses them all.  He has been a confidante and minister to a great many Alabama governors and Montgomery business leaders.
These three gentlemen are without a doubt three of the greatest ministers in Alabama of this century.  I am proud to call them friends.
See you next week.
---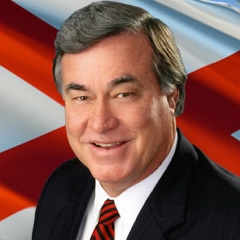 Alabama's premier columnist and commentator, Steve has analyzed Alabama politics for national television audiences on CBS, PBS, ABC and the British Broadcasting Network. Steve has been an up close participant and observer of the Alabama political scene for more than 50 years and is generally considered the ultimate authority on Alabama politics and Alabama political history.
All author posts