Last week we made you aware that five of the nine seats on our State Supreme Court are up for election this year. In addition, our Court of Civil Appeals and Criminal Appeals have several members up for election.
The folks who sit on these courts essentially have zero name identification. Even when polling is done soon after Alabamians have voted for them, Alabama voters still cannot identify them.
These courts do just what their name implies.  They hear appeals from civil and criminal cases from around the state and are a barrier or gatekeeper between the circuit or trial courts around the state.  They deflect a lot of cases from getting to the Supreme Court. Most states have these appellate courts. They are similar and derived from the federal appellate courts.
Alabama is in the minority of states that elect our judges.  All of our judges in Alabama are elected, not only the Supreme and Appellate Court jurists, but also our local Circuit and District Judges.  Judges in most states are appointed – usually by the governor. The crafters of our 1901 Constitution gave the people the right to vote on judges, which was one of the deference's from having a powerful governor.
There are nine seats on the State Supreme Court and five seats each on the Court of Civil and Criminal Appeals.  All 19 of our state court seats are held by Republicans, which is reflective of our state's political leanings.
As would be suspected with all Republicans, they tend to be conservative.  Our Court of Civil Appeals leans pro-business, and our Court of Criminal Appeals tends to favor prosecutors over defendants.  However, our current Court of Criminal Appeals has a very glaring exception due to the obvious inexplicable length in their handing down an opinion on the conviction of former Speaker, Mike Hubbard.  
In almost all cases heard by the Court of Criminal Appeals, they render an opinion upholding a conviction by a local jury.  The only exception is when there is an egregious overt error in jury instructions or overt documented prejudice by a Circuit Judge.
Folks, I watched and followed the Mike Hubbard case.  Judge Walker, a highly respected and veteran experienced Lee County Circuit Judge did a meticulous job in that trial.  A 12-person jury convicted Mike Hubbard of Ethics Law violations. There was no error in protocol or one shred of evidence that was not presented.  It was a lengthy trial. Hubbard had his day in court. A jury of his Lee County peers found him guilty. Judge Walker, in order to avoid error, read the instructions to the jury to assure that proper language was unmistakable.
As I travel the state on Speaking engagements and Talk shows, invariably the first question asked by Rotarians or callers is, "Why hasn't Mike Hubbard gone to jail?"  They ask a pertinent question. They suspect foul play or political deference may be at play. It would appear that that might be the case.
Hubbard was convicted almost two years ago.  The Court of Criminal Appeals usually rules on an intricate murder trial in less than a year.  Yet, Hubbard remains free on Appeal. The average Alabamian is perplexed by the delay. I suspect politics is at play in this case.  It may revolve around campaign contributions to judicial candidates.
The members of the State Court of Criminal Appeals are Liles Burke, Mary Windom, Beth Kellum, Sam Welch and Mike Joiner.  There are several newcomers in the June Primary. The list includes running for three open seats; Richard Minor, Donna Beaulieu, Bill Cole, Rich Anderson and veteran Fayette County District Attorney, Chris McCool.
We also have some races on the Court of Civil Appeals next month.  The business community is obviously more interested in this Civil Appeals Court than Criminal. In place 1, Baldwin County Circuit Judge Michelle Thomasson may have an edge over Pat Thetford of Birmingham and Christy Edwards of Montgomery. Incumbent Judge Terri Willingham Thomas is being challenged by Chad Hanson for Place 2.
There are a lot of judicial races on our June 5 ballot on both the state and local level.
See you next week.
---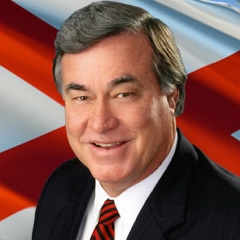 Alabama's premier columnist and commentator, Steve has analyzed Alabama politics for national television audiences on CBS, PBS, ABC and the British Broadcasting Network. Steve has been an up close participant and observer of the Alabama political scene for more than 50 years and is generally considered the ultimate authority on Alabama politics and Alabama political history.
All author posts