Well, folks, the 2018 Political year has begun and all of the horses are in the chute.  It is going to be a good year for horse races.
Perennially, the year of the governor's race has been the best year for Alabama politics.  Historically, most Alabamians have been more interested in who they elect as governor than who is president.  However, we have really been more interested in who is sheriff than president. If the old adage that "All politics is local" applies in Tip O'Neil's Massachusetts, it applies doubly in the Heart of Dixie.
Our forefathers, who wrote our now antiquated 1901 Constitution, must have perceived that our politics was localized because all of our races are on the ballot in gubernatorial years. This year we will not only elect a Governor, we will vote for a new Lt. Governor, new Attorney General, new Treasurer, new Agriculture Commissioner.  Five seats on the State Supreme Court are on the ballot as well as three seats on the Court of Civil Appeals, and three places on the Court of Criminal Appeals.
Along with these State Court races, we have a good many of the Circuit Judges in the state running. All 68 Probate Judges are on the ballot.  Lest some of you correct me that we only have 67 counties rather than 68, imperial Jefferson has two Probate Judges. That is not all folks, all 67 Sheriffs in the state are up for their four-year terms. Both political parties select their members to their local and state executive committees.  Part of the state school board runs this year.
Last, but certainly not least, all of our legislative seats are up for election.  Our constitution anoints the Legislature with a good amount of power. Probably more than the Executive and Judicial branches of state government.
Our Constitution was written and dictated by powerful agricultural Black Belt farming and Birmingham industrial interests.  They wanted the power vested in the Legislative Branch. They orchestrated malapportioned representative bodies, and gave inordinate power to the Black Belt region.
The Legislature controls the purse strings of the state.  Thus, the adage that "those that have the gold set the rules." The most powerful organization then and still now is the Alabama Farmers Federation (ALFA).  They will disburse a token amount to the governor's race, but they will concentrate their interest and resources on legislative races. Most of the other special interests and organizations will follow suit and do the same.
Therefore, you will see most of the special interest money focused on the 35 state senate seats and 105 House of Representative places up this year.  Incumbents are usually hard to beat. Indeed, most of the most entrenched incumbent State Senators and Representatives are unopposed or have taken opposition.
There are 10 Senate Seats and 22 House seats where the incumbent is not running.  These races will be interesting to watch and expensive and you will have one or two incumbents get benched.  One that will probably go down is first term State Senator Larry Stutts in the Northwestern corner of the state.
Speaking of incumbents, very few sitting members of Congress ever lose.  No matter if they are Democratic or Republican. However, one of our seven congressional seats is seriously in play.  Incumbent Republican Martha Roby will have her hands full holding on to her congressional seat for a fourth term. She has been considered very vulnerable since her race two-years ago.  She is being challenged by four significant Republicans and two Democrats.
Bobby Bright, who held the seat for two-years as a Democrat, lost the seat to Roby in 2010 only because he insisted on running as a Democrat.  He has seen the light and is running for his old seat as a Republican. He is a former mayor of Montgomery for 10-years along with his two years in Congress.  He is a stellar campaigner, who has roots in the Wiregrass.
Also in the race will be Rich Hobson, who will be the heir apparent to the Roy Moore organization. Enterprise/Coffee County State Representative Barry Moore will do well in his home Wiregrass area. Newcomer Tommy Amason will get some votes in the River Region. The race for the 2nd District should be interesting.
The other members of our Congressional delegation are Republicans Bradley Byrne, Mike Rogers, Robert Aderholt, Gary Palmer, and Mo Brooks, who all have free rides or token opposition.  Our only Democratic Congressperson is Terri Sewell, who has no opposition.
We will handicap the governor's race next week.
---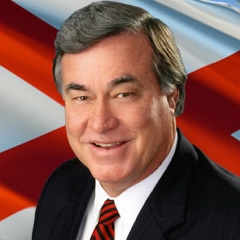 Alabama's premier columnist and commentator, Steve has analyzed Alabama politics for national television audiences on CBS, PBS, ABC and the British Broadcasting Network. Steve has been an up close participant and observer of the Alabama political scene for more than 50 years and is generally considered the ultimate authority on Alabama politics and Alabama political history.
All author posts