As we approach the end of the political year, a few thoughts and observations on 2014 political happenings in the Heart of Dixie.
Jim Sumner retired as Executive Director of the Alabama Ethics Commission in October. He had been Ethics Commission Chairman for 16 years. Jim had an outstanding career in state public service that spanned 35 years. Prior to heading the Ethics Commission, he worked as an Administrative Assistant to Bill Baxley, while Baxley was Attorney General and Lt. Governor. He also lobbied for the University of Alabama. The only other person in state politics as meticulous and detail oriented as Sumner is Seth Hammett. Jim's proudest accomplishment as Ethics Chairman was his success in 2010-2012, in garnering more power for the commission by allowing them subpoena power.
Next year will not be completely void of politics. The Republican Party will have an election for Party Chairman. Bill Armistead, who had a four-year successful run as chairman, will not seek reelection.
Montgomery is looking at the probability of a lively mayor's race. Incumbent Mayor Todd Strange has not said whether or not he will run. If he does, he will be challenged. One likely challenger may be former Birmingham Congressman Artur Davis. The nomadic politician moved to Virginia to run for Congress. He now wants to move back to his hometown to run for mayor.
The elections of John Merrill as Secretary of State and Jim Ziegler as State Auditor have cast a historical slant on this year's elections.  For well over a century there has been a "secret society" made up of fraternities and sororities at the University of Alabama known as the Machine. It is essentially a political party made up of Greek members at the Capstone.
The success of the Machine has been amazing. Many of the Machine alumni have gone on to become Alabama's most renowned political leaders. Included in the list of Machine products are Senators Lister Hill and John Sparkman, Congressmen Carl Elliott, Jack Edwards, Walter Flowers, Armistead Selden and Bill Dickinson, Governor Don Siegelman, Lt. Gov. Bill Baxley and State Senator Roger Bedford.
In the past 100 years, there have only been seven University of Alabama students who beat the Machine to become SGA President on their own.  Two of these seven are John Merrill and Jim Ziegler. They will be sworn in as constitutional office holders in January.
New 1st district congressman, Bradley Byrne, has taken to Congress like a duck to water. He has had a stellar first year in Washington. He maneuvered the Washington labyrinth to get the perfect committee assignments for his district. He has established excellent communication with and input from his constituents. He has assembled a capable staff. He has garnered the respect of his congressional colleagues with reasonable speeches on the floor all geared towards helping his district.
While this should come as no surprise given Bradley Byrne's vast political experience, he had some big shoes to fill following Jo Bonner, who had represented Mobile/Baldwin and southwest Alabama counties bordering the Port City in excellent fashion for over a decade. The district has had a history of strong representation prior to Bonner. Byrne's mentors, Sonny Callahan and Jack Edwards, were outstanding representatives and watchdogs for the old Mobile 1st district.
However, four years from now when Bradley realizes the pragmatism that the Washington seniority system limits his leadership in the U.S. House to a 20 year wait, he may wade into the 2018 gubernatorial waters.
As the Governor and Legislature await the beginning of the new quadrennium, gargantuan financial problems are looming in the state's beleaguered General Fund. Medicaid is a money eating monster that has to be dealt with immediately. The same is true of prisons.
Shelby County State Senator Cam Ward has carved out a niche as an expert and go to guy when it comes to the Department of Corrections and prison overcrowding. His reasonable and statesman like approach has brought him high regard and respect among his colleagues and Goat Hill observers, despite his young age.  Most observers see State Senator Cam Ward as a formidable candidate for either lieutenant governor or attorney general in 2018, if he chooses to run statewide. Both offices will be open and incumbent free next time.
See you next week.
---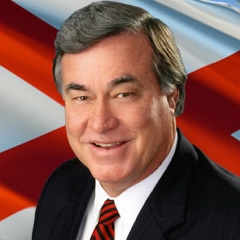 Alabama's premier columnist and commentator, Steve has analyzed Alabama politics for national television audiences on CBS, PBS, ABC and the British Broadcasting Network. Steve has been an up close participant and observer of the Alabama political scene for more than 50 years and is generally considered the ultimate authority on Alabama politics and Alabama political history.
All author posts