The GOP takeover of the U.S. Senate has a silver lining for Alabama. We came out like gangbusters with the Republican victory.
Both of our U.S. Senators are Republican and both have seniority. Our Senior Senator Richard Shelby has been in the U.S. Senate 28 years. He is in the top ten members of the Senate in seniority. He will become one of the Senate's most powerful members. He will chair the Senate Banking Committee and will be Vice Chairman of Appropriations.
If you think Shelby has brought home the bacon the last two decades, then you ain't seen nothing yet. If there was ever any doubt whether Shelby would run for reelection in 2016, those doubts can be put to bed. You can bet your boots that he is running. He has $17 million in his campaign war chest awaiting any foolhardy challenger.
Our Junior Senator, Jeff Sessions, is so popular that nobody dared to run against him in the Republican Primary or in the General Election. He will be beginning his fourth six-year term. His 18 years of seniority will hopefully allow him to chair the Senate Budget Committee.
The turnout for our November General Election in Alabama was one of the lowest in history for gubernatorial years. Forty-one percent of Alabama voters turned out to vote. The average for gubernatorial years since 1986 has been 54% in the Heart of Dixie. However, we did better than the national average this year, which was only 37%.
Lower turnout tends to help Republicans. GOP leaning voters have a history of voting in every election. Whereas, Democratic voters vote more readily in high profile presidential contests. This propensity is one of the explanations for the big Republican victory nationwide last month. This Republican tide obviously enhanced the continued GOP dominance in our State. Alabama is now considered in many corners and surveys as the most Republican state in America.
The proof is in the pudding folks. This year's election solidified the Republican dominance in the Heart of Dixie. Every statewide Republican candidate won and won in a landslide. Many Republican statewide candidates, including all of the state's Republican judges were unopposed. Every statewide office in Alabama is held by a Republican. Eight out of nine of our Washington Senators and Representatives are Republican. Our Republican Governor, Lt. Governor, Attorney General, Agriculture Commissioner, Treasurer and Secretary of State and Auditor all received over 60% of the vote.
When it comes to statewide politics we are essentially a one party state. The Democratic Party is dead in Alabama when it comes to statewide contests. There are certain enclaves like Jefferson and Montgomery counties and the Black Belt counties that are Democratic. But the State of Alabama is a very hardcore Red State. It would be foolish for a serious candidate to run for governor as a Democrat.
The election for governor is now held in the Republican Party primary. Winning the GOP nomination for governor is tantamount to election in the Heart of Dixie, the same way that winning the Democratic nomination 50 years ago was tantamount to election.
The GOP takeover of the Legislature was thorough and absolute. It is as though Alabama voters systematically sought to weed out every white Democrat left in the Legislature. When the State Senate convenes in January, there will be 25 Republicans, 9 Democrats and one Independent.
Fifty years ago today, all 35 members of the State Senate were white male Democrats. Today, there is only one white Democrat left. They should put a glass cage around Billy Beasley's desk and try to protect him like a prize exotic animal in the zoo. He is like a dinosaur, as white Democrats have become extinct. The GOP holds an amazing 72 to 33 seat advantage in the State House of Representatives.
Last year, I had the opportunity to be a keynote speaker at Alabama Boys State. A bright young man asked me after my speech, "Can I be successful as a Democrat in Alabama?"  My reply to him was, "Forty-five years ago I was sitting here where you are now. At that time, even if you were a Republican you had to run as a Democrat in Alabama to be elected. Today, even if you are a Democrat, you have to run as a Republican to get elected."
See you next week.
---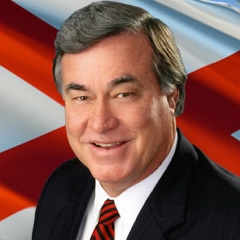 Alabama's premier columnist and commentator, Steve has analyzed Alabama politics for national television audiences on CBS, PBS, ABC and the British Broadcasting Network. Steve has been an up close participant and observer of the Alabama political scene for more than 50 years and is generally considered the ultimate authority on Alabama politics and Alabama political history.
All author posts