The political spotlight has been focused on Mobile for most of this year.  They had a historical and sensational mayor's race that ended in early fall.   It resulted in a new mayor, Sandy Stimpson. Incumbent mayor Sam Jones lost to Stimpson after eight years in office.
Although mayors do not run under partisan labels, it was a classic Republican versus Democrat race.   Stimpson is a wealthy white businessman.  Mayor Jones is the classic African American Democratic politician.  Both men are in their 60's and have been successful in their careers.  Stimpson will approach running the port city in an open and businesslike fashion.  He defeated Jones with a plan that always works in politics. He outspent him and, more importantly, he outworked him.
Politicos who watched the race said they had never seen a better run campaign nor seen a candidate stay on message as well as Stimpson.  They say he worked harder than any candidate in Mobile mayoral political history.  He probably wore out about a dozen pairs of Gucci shoe loafers walking the streets of Mobile shaking hands.  Stimpson would make an excellent candidate for governor in the future. However, it has been suggested he probably will never undertake that mission because he loves Mobile and his family too much. Most of his children and grandchildren live close to him in Mobile.
As if the mayoral race was not entertaining political theater enough, we had a race for an open congressional seat to watch in coastal Alabama.  Jo Bonner's retirement from congress left his seat open for a political fray.  There was a bevy of candidates seeking the open congressional seat.
Bradley Byrne began as the obvious frontrunner and man to beat and he emerged as the victor after a long primary and tumultuous runoff.  Bradley will go to Washington as a freshman congressman and will follow in the footsteps of Frank Boykin, Jack Edwards, Sonny Callahan, and Bonner.
The race was interesting.  Byrne always had the money, organization and establishment endorsements.  As mentioned, there was a large field of candidates seeking the seat.  Therefore, it was obvious that there would be a runoff.  Not surprisingly the evangelical candidate, Dean Young, who was endorsed by Roy Moore, emerged as Byrne's runoff opponent.
The runoff became very contentious and received national attention.  Observers statewide and nationwide were watching the race because of the schism that has evolved within the Republican Party ranks.  Byrne was the establishment candidate. Young was the reactionary Tea Party evangelical candidate.  National Party leaders say this rift will continue to play out across the country in the 2014 election cycle.
Byrne, who is a lawyer, former state senator and former chancellor of Alabama's two-year college system, defeated Young by only 3,600 votes.  Byrne prevailed by a 52.5 to 47.5 percent margin.  The runoff became so bitter that Young has refused to endorse Bryne in the perfunctory general election against a Democrat. "This party is deeply divided.  It is as wide as the Grand Canyon and as deep as the ocean," said Jonathan Gray, Young's campaign consultant.
Bryne won his victory in the upper income enclaves of Mobile and Baldwin counties.  Young received most of his votes in the rural areas of the district.  Young lost his own precinct in Orange Beach. Bryne's campaign strategists attributed his victory to a sophisticated, get out the vote operation.  They boasted of having 18,000 door knocks and 50,000 live volunteer calls.
Indeed, they may be right. Both sides must have knocked on a lot of doors because the runoff drew 20,000 additional voters to the polls, more than the first round of voting on September 24th when nine candidates were on the ballot.  This 40 percent increase and turnout is unprecedented in a special election runoff.  Both these South Alabama races exhibit the cardinal rule in Alabama politics.  Although a lot has changed politically with sophisticated computer technology, money and hard work still prevail.
See you next week.
---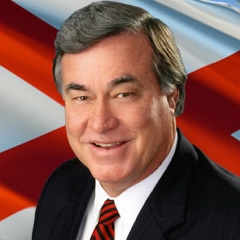 Alabama's premier columnist and commentator, Steve has analyzed Alabama politics for national television audiences on CBS, PBS, ABC and the British Broadcasting Network. Steve has been an up close participant and observer of the Alabama political scene for more than 50 years and is generally considered the ultimate authority on Alabama politics and Alabama political history.
All author posts