By all accounts Alabama is a very religious and pro-family state. We are considered the Heart of the Bible Belt. However, Alabama flourished as a divorce mill for about 25 years from 1945-1970. Yes folks, good old conservative Alabama was known as the haven for quickie divorces. Famous people flocked here to get unhitched.
This practice of granting quickie divorces began in 1945 when a law was abolished that required a one-year residency before folks could divorce in Alabama. Most states had a similar requirement at that time and a good many still do today.
Divorces became a gold mine. It was a lucrative practice for lawyers. In fact, some of our state senators, who were also lawyers, became the primary divorce lawyers in the state. Their ability to expedite the divorces for the rich and famous was enhanced by local bills that made it even easier in their home counties. Their relationships with their local circuit judges did not hurt their case either. They usually controlled the judges' salary by way of local legislation. In some cases, the judge was a former law partner.
The legendary Rankin Fite got rich through this quickie divorce scheme. He was the lawyer of record for quite a few of the rich and famous who high tailed it to Alabama to get unhitched. Rankin would bring these folks into Marion County and get them a divorce in a New York minute. That was fitting and proper since a good many of them were from New York.
Rankin even had his own airplane. As Speaker of the House he got the state to build an airport in Hamilton so he could fly his personal plane to and from Montgomery. His airport in Hamilton, a hamlet of 5,000, had an airport the size of any city of 100,000 in the state, all for Rankin's personal use so that he could get back home and represent New Yorkers in their divorces. They, of course, claimed northwest Alabama as their residency.
Most folks in the country perceived that Reno, Nevada was the divorce capital of the United States. Not so. It was Alabama. In 1962, Time magazine published an article entitled "Alabama Unbound." It chronicled Alabama's prominence as the nation's divorce capital and stated that divorces in Alabama far outnumbered those in Reno. In 1960, Alabama granted more than 17,000 divorces while Nevada only filed 9,274.
Over this 25-year span the state's reputation drew thousands of socialites and celebrities. They could easily sidestep residency laws and get divorces in as little as a few hours. John Daly, the host of the game show "What's My Line," divorced his first wife in Luverne in Crenshaw County so he could marry his second wife, Virginia Warren the daughter of Chief Justice Earl Warren. Her lawyer was State Senator Alton Turner.
Also during the 1960's a divorce was granted in Alabama to Barb Adams, the wife of renowned New Yorker magazine cartoonist Charles Adams. They were granted a divorce with a one-day wait in Limestone County.
Probably the most famous and more than likely most lucrative of the Alabama divorces of this era was that of Tina Onassis, the daughter of Greek shipping magnate Stavros Livanos, who divorced her husband Aristotle Onassis. They were unhitched in Washington County in 1960. Her lawyer was the flamboyant and debonair State Senator Pierre Pelham of Mobile. Pelham was a legend in the State Senate. He was impeccably dressed in white linen or seersucker suits. He had an audacious southern demeanor. He also had the perfect Alabama name, which fit his perfect gentlemanly southern accent. He also loved fine wine. Pierre had been born and raised in Washington County. He went to Harvard for law school.
He gave Ms. Onassis' divorce more dignity and credibility than most. He asked her to actually reside in Mobile for a week prior to her divorce. She rented a penthouse apartment in the fashionable Creighton Towers complex on Springhill Avenue. She paid a year's rent in advance. Pelham took Onassis to the Mobile Public Library and got her a library card. He took her to Dauphin Island and bought her a lot. He then took her to Washington County and she was divorced in five minutes.
Alabama's glory days as the nation's quickie divorce capital ended in August of 1970. In Geneva County, two circuit judges and seven others were indicted in a quickie divorce scheme.
See you next week.
---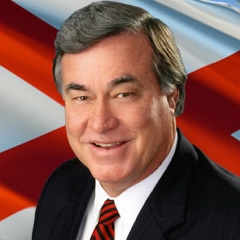 Alabama's premier columnist and commentator, Steve has analyzed Alabama politics for national television audiences on CBS, PBS, ABC and the British Broadcasting Network. Steve has been an up close participant and observer of the Alabama political scene for more than 50 years and is generally considered the ultimate authority on Alabama politics and Alabama political history.
All author posts