The 2013 regular legislative session begins this week. There are a myriad of issues that must be dealt with during their four month journey. The most pressing will be resolving the current funding crisis in the state's general fund budget.
As the 140 delegates take their seats and settle in to wrestle with resolving the state's dilemma, I am reminded of my earliest days observing the legislature. It is nostalgic to think back to my very first legislative endeavors. I began as a House Page in the mid 1960's. That was almost 50 years ago. When I worked the House floor as a young teenager delivering notes and getting coffee, the membership was much different. At that time all the House and Senate members were white male Democrats. The scenario today is much different and diverse.

In 1963 there were no African American legislators. Blacks only began voting in the South after passage of the 1965 Voting Rights Act. Alabama was a totally Democratic state. The legislature had not adhered to the constitutional mandate to reapportion itself from 1901 to 1972. Therefore, the legislature was grossly malapportioned in 1963.
Besides there being no black or female legislators, the cities of Birmingham, Mobile and Huntsville were blatantly discriminated against when it came to equal representation. Rural Alabama prevailed in membership as if nothing in Alabama had changed population wise in 60 years. Iron ore had not even been discovered in Birmingham in 1901. Therefore, the people in the Magic City and Jefferson County were not in existence as far as legislative representation. A county with 15,000 people had as many senators as Jefferson County with 250,000 people.
What about today? Let me give you a snapshot of the House and Senate. When they convene Tuesday, the legislature will accurately reflect the state's population with one exception. We still have under representation of female legislators, especially given the fact that there are more female voters in Alabama than male. In the House of Representatives there are 91 males and only 14 females. In the Senate there are 30 males and a paltry five females. There are no Republican female senators.
However, we are the most progressive state in the nation when it comes to racial parity. Our black legislative membership mirrors our state population. In the House there are 80 whites and 25 blacks. This will probably grow to 26 in 2014 due to the Republican's zeal to adhere to requirements of the Voting Rights Act in their new reapportionment plan. The Senate is made up of 28 whites and seven blacks. The Senate has 22 Republicans and 12 Democrats. The House has 66 Republicans and 39 Democrats.
What about the geographical makeup? Today, the larger counties have their legitimate share of representation.
I was also interested in where the leadership of the House and Senate called home. Therefore, I divided the state into the following categories: small towns or places of less than 15,000, mid-size cities with populations of 15,000 to 60,000, and big cities for all places with populations greater than 60,000.
In the Senate, I used as the top nine leaders, Del Marsh of Anniston, Jabo Waggoner of Vestavia, Arthur Orr of Decatur, Trip Pittman of Daphne, Jimmy Holley of Elba, Gerald Dial of Lineville, Cam Ward of Alabaster, Roger Bedford of Russellville and Hank Sanders of Selma. Amazingly, there are no senate leaders from a big city. Six of the nine hail from mid-size cities of populations between 15,000 to 60,000 and three call small towns home.
In the House, I used Mike Hubbard of Auburn, Victor Gaston of Mobile, Jay Love of Montgomery, Howard Sanderford of Huntsville, James Buskey of Mobile, Craig Ford of Gadsden, Steve Clouse of Ozark, Paul DeMarco of Homewood and Jim McClendon of Springville. The city boys fare better in the House than the Senate. The House leadership is made up of four city boys, four mid-size boys and one small town boy. Notice I used the term "boys." All nine leadership roles are held by men in both chambers.
See you next week.
---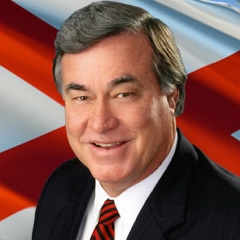 Alabama's premier columnist and commentator, Steve has analyzed Alabama politics for national television audiences on CBS, PBS, ABC and the British Broadcasting Network. Steve has been an up close participant and observer of the Alabama political scene for more than 50 years and is generally considered the ultimate authority on Alabama politics and Alabama political history.
All author posts