Alabama may be on the lower end of the financial spectrum when it comes to the per capita income of our population. However, our public employees have one of the most sound retirement programs in the nation. One group of state employees, our judges, have what is probably one of the most lucrative retirement programs in the entire country.
The benefits accrued by members of our judiciary are nothing less than amazing. The judges can thank the late Supreme Court Chief Justice and U.S. Senator Howell Heflin for spearheading an effort to streamline and update our judicial system in the 1970's. This Judicial Article not only upgraded the court system and judicial compensation, it created unparalleled retirement benefits.

The Retirement Systems of Alabama provides pension coverage for almost 300,000 current or retired employees of state agencies, including our judges as well as all public school, college and university employees. These government employees can rest easy knowing that their retirement benefits are guaranteed. The system is actuarially very sound and properly funded.
Last year the state paid $978 million to maintain the financial health of the Retirement System's funds. That total will drop to $785 million this fiscal year primarily because lawmakers required public employees to pay a larger share of their salaries for their pension coverage.
Currently teachers and other public employees may draw retirement pay after working 25 years or when they turn 60. Judges can get benefits after 12 years on the bench. Under Alabama law, the state must live up to its contract guaranteeing benefits for vested employees. However, the GOP legislature, led by House Speaker Mike Hubbard, says that the state cannot continue to appropriate $1 billion per year into infinity. Hubbard says, "There is no doubt we have to make changes." Those changes cannot affect current vested employees or retirees. However, you may very well see legislation that could include raising retirement age to 65 for all new state workers and teachers.
Dr. David Bronner, who has headed the Retirement Systems of Alabama for close to four decades, has come under fire recently from Republican legislators. Over the years Bronner has been heralded as a financial wizard and praised by public employees. Indeed the system had 25 years of success. During that period the Fund averaged a return of over 8% but the last 10 years have been tough. The RSA's net investment gain over the past decade is 3%.
This new group of conservative legislators point to this lack of performance in their criticism of Bronner. Most of them believe that Bronner is a closet liberal and a Democrat. They do not like the close and cozy relationship that Bronner and Dr. Paul Hubbert had over the years. Bronner defends his record by arguing that one of the reasons the Fund has not reaped the desired returns in recent years is because he has chosen to invest at least 10%of the pension funds in Alabama.
Indeed, the crowning jewel of Bronner's legacy will be his creation of the Robert Trent Jones Golf Trail. The 26-course trail draws over 500,000 people a year. It is the state's number one tourist attraction. The Alabama Tourism Department reports that the state's RTJ golf facilities contribute $437 million to tourism and hospitality coffers throughout the state. When revenues from tournaments and course operations are added, the impact reaches $1.5 billion.
This dollar amount is staggering. Bronner's golf development now exceeds the economic impact of our aerospace industry and this golf trail is nearly two times as big as Alabama's agriculture sector. This economic impact is phenomenal. However, an even deeper benefit is gained by the positive image that results when tens of thousands of snowbirds travel to Alabama to play these courses throughout the year.
Bronner has been called a financial guru over the years. That may or may not be the case. However, there is no mistaking the fact that his creation of the Robert Trent Jones Golf Trail was a stroke of genius. The golf trail will be Bronner's crowning legacy.
See you next week.
---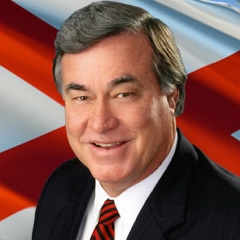 Alabama's premier columnist and commentator, Steve has analyzed Alabama politics for national television audiences on CBS, PBS, ABC and the British Broadcasting Network. Steve has been an up close participant and observer of the Alabama political scene for more than 50 years and is generally considered the ultimate authority on Alabama politics and Alabama political history.
All author posts