This week marks the one year anniversary of the devastating tornados that struck the state on April 27th of last year.
The tornados that ravaged the state that day are considered the worst natural disaster in Alabama history. There were a total of 62 tornadoes that pummeled Alabama. The storms left 250 people dead, over 2,800 injured and 23,500 homes damaged or destroyed. These figures could have actually been worse. Some of the funnel clouds were over a mile wide with record breaking high winds. Some of the worst damage was done in Tuscaloosa.

I recently visited with the administrator of Tuscaloosa's Druid City Hospital. He said they sat and watched the killer tornado heading directly at the medical center. It appeared imminent that the mile wide 90mph gale was going to hit the facility and his life, along with the lives of 1000 or more employees and patients were going to end. All of a sudden, in an act of divine providence, the tornado miraculously veered and avoided the hospital along with the University of Alabama campus.
When the assessment of the tragedy began you could see the look of deep hurt in the eyes of our new physician governor. It was his hometown of Tuscaloosa that was the most devastated. As he toured the wreckage and carnage it was obvious that it was very personal. Bentley knew many of the victims. Some were his patients.
It was Bentley's 100th day in office. He had planned to spend his 100th day reflecting on what he had done and what he wanted to do as governor. Many times governors are judged by how they respond to natural disasters. People decide on their leadership skills in these critical and severe situations. Most Alabamians judged Bentley's response positively.
Over the next month he visited all 38 counties affected by the tornadoes. He also immediately announced that he would personally lead the recovery response and that he would not rely on the Federal Emergency Management Agency. He jumped in and personally thanked thousands of volunteers and mourned with families who lost loved ones. He then went to work making sure county officials were able to apply for federal relief. Through his journey he displayed the genuine empathy for victims and families that is seen in an old country doctor. It was this family doctor persona possessed by Bentley that had endeared him to Alabama voters and propelled him to an unlikely victory in the governor's race one year earlier.
When all is said and done and Bentley is again enjoying his retirement years in Tuscaloosa and he is reflecting on his years as governor, he may be proudest of his efforts on behalf of the small northwest Alabama hamlet of Hackleburg. The entire town, along with its largest industry, was totally destroyed. Bentley was instrumental in getting their Wrangler plant to rebuild. Thus, saving the town of Hackleburg.
Bentley inherited a ship of state that is in pretty bad shape. Because of the national economic recession, Alabama's state coffers are in the worst shape since the Great Depression. The cupboard is bare and the budgets that the legislature is wrestling with in the current session will not be pretty.
Bentley ran for governor promising that he would not take a salary until Alabama's unemployment rate fell to 5.2%. Although the unemployment rate is down to 7.8% from a high of 10% and we are in a lot better shape than a good many of our sister states, he is nowhere close to getting paid. Bentley has also kept a campaign promise to enact tax credits for businesses and to create 10,000 new jobs in his first year in office. He beat that mark with over 13,000 jobs announced.
The 68 year old governor took office at a pretty tough time. He not only faced the worst financial dilemma in our lifetime but was hit with the worst natural disaster in our history. He is doing pretty good considering the hand he was dealt.
My guess is that if Bentley chooses to run for reelection in 2014, he will be tough to beat. Although he has his detractors, his sincere approach resonates.
See you next week.
---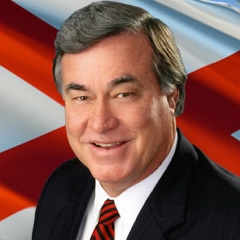 Alabama's premier columnist and commentator, Steve has analyzed Alabama politics for national television audiences on CBS, PBS, ABC and the British Broadcasting Network. Steve has been an up close participant and observer of the Alabama political scene for more than 50 years and is generally considered the ultimate authority on Alabama politics and Alabama political history.
All author posts