Those of us who are over 50 years old have witnessed and been a part of one of the most profound and dramatic changes in American political history. The total transformation of the South from an all Democratic region to an all Republican enclave is remarkable to say the least. Fifty years ago we were referred to as the Solid South because we were solidly Democratic. We are still labeled as the Solid South, but today it is because we are the most reliably Republican part of the country.
This time 50 years ago there was not one Republican U.S. Senator from the South. Today, the 10 Deep South states have 20 U.S. Senators and 19 out of those 20 are Republican. The only Democrat left is Mary Landrieu of Louisiana.

In 1961 Alabamians had just voted for a young Catholic liberal Democrat from Massachusetts for president. Both our U.S. Senators were Democrats. All nine of our congressmen were Democrats. All seven of our constitutional officers, including governor and lieutenant governor, were Democrats and all 140 members of our legislature were Democrats. Fast forward 50 years to 2011 and both of our U.S. Senators are Republican. Six out of seven of our congressional delegates are Republican. All seven of our constitutional officeholders are Republican, including governor and lieutenant governor, and 89 out of 140 members of the legislature are Republican.
In the 1964 Presidential election, when we broke the ice and voted overwhelmingly for Republican Barry Goldwater we became a Republican state on the national level. Since our 1964 conversion to the GOP in presidential politics, we have backslidden only once in the 12 presidential elections since the Goldwater landslide. Georgia neighbor Jimmy Carter was the only anomaly in 1976.
Due to our one party Democratic allegiance during the post Reconstruction era for 90 years, from 1876 to 1966, we had a unique voting pattern in Alabama. We had very little interest in presidential politics. Everything in Alabama politics revolved around local races for sheriff and probate judge. The marquee event was the governor's race every four years. Therefore, unlike the rest of the country, we voted more heavily in the Democratic primary for governor than in presidential elections.
Our race for governor and all other statewide offices were decided in the Democratic primary. Winning the Democratic primary was tantamount to election. We may have entered an era in Alabama politics where the Governor's race is once again an intra party contest. A victory in the Republican primary may be tantamount to election.
This week Dr. Robert Bentley was sworn in as our 53rd governor. He takes the reigns of a ship of state that is in bad fiscal shape. He and his legislative buddies are going to have to make some tough decisions. There will more than likely be draconian cuts in state services that may not sit well with many Alabamians. Some folks suggested prior to the election that whoever was elected governor may be a one termer. Therefore, like most political junkies, as I watched the swearing in of our governor and other constitutional officers this week, my thoughts turned to the next governor's race in four years in 2014.
Logic and custom would suggest that even though Bentley is 67 and not a youngster that he would still probably seek a second term in 2014. However, if he decided to resume his retirement and enjoy some less stressful years in Tuscaloosa with his grandchildren after struggling with balancing the state budgets for four years, who are the potential horses who might enter the gubernatorial derby in 2014?
On most lists is Attorney General Luther Strange. He is a good candidate and an excellent fundraiser. He is also in the best position to move up the ladder. The Attorney General's office offers an excellent opportunity for garnering good publicity. Most people who know Luther well say that his ultimate ambition is to go to the U.S. Senate rather than be governor. However, if he is waiting on Richard Shelby to retire he may have a long wait. Shelby's current term does not expire until 2016 and he is quick to tell you that even though he will be 81 at that time he plans to run again.
Another top prospect would be State Treasurer Young Boozer. However, the job of treasurer is more benign and low profile. He will have a harder time developing hardcore name identification, although he has a very memorable name.
Allow me to suggest another scenario. Bob Riley is not precluded from seeking a third term in four years. His final actions as governor give every indication that Riley is not through with politics.
We will see.
See you next week.
---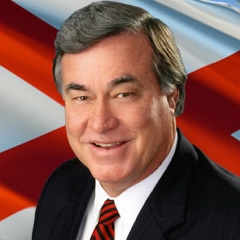 Alabama's premier columnist and commentator, Steve has analyzed Alabama politics for national television audiences on CBS, PBS, ABC and the British Broadcasting Network. Steve has been an up close participant and observer of the Alabama political scene for more than 50 years and is generally considered the ultimate authority on Alabama politics and Alabama political history.
All author posts