As the 1958 Governor's race dawned the shadow of Big Jim Folsom loomed over the scene. Even though Big Jim could not be on the ballot, because the Alabama Constitution prohibited a governor from succeeding himself, his larger than life presence was pervasive.
Although Big Jim was prohibited from seeking a record third term in 1958, the aspirants could not decide if they wanted his support or not. On one hand he was popular with rural Alabamians but, on the other hand, his second term had been as tumultuous and chaotic as his first and probably more scandalous and corrupt.
As was the custom, because you could not succeed yourself, the man who ran second became the frontrunner four years later. It was called running a get acquainted race. This pattern had been played out throughout the decades. The runner up to Big Jim in 1954 was Jimmy Faulkner, who was a State Senator from Bay Minette in Baldwin County. Faulkner was a successful businessman who owned a string of newspapers. He was sharp, handsome, and articulate with a little more polish than Big Jim but not nearly the charisma. However, having finished second in 1954, Faulkner emerged as the frontrunner when the 1958 Governor's race began.
It was apparent early on that George Wallace would be Faulkner's biggest rival. Wallace was a fiery Circuit Judge in Barbour County and had been running for Governor since he was in knee pants. He had been traveling and organizing the state for four years preparing to run. Wallace was especially well-organized in South Alabama. He had been Big Jim's South Alabama campaign manager in 1954 and was poised to build on and use those contacts. It was apparent that Wallace was a political force to be reckoned with in this race and in years to come. He had a magnetism that connected with voters and a phenomenal ability to remember people's names. He was also a gifted orator and debater.
John Patterson was the Attorney General of Alabama. His father, Albert Patterson, had been elected four years earlier but was assassinated shortly after his election. The elder Patterson was a Phenix City lawyer who had run on a platform of cleaning up Phenix City, which had emerged as one of the most corrupt cities in America. It was a poor man's Las Vegas with gambling and prostitution catering to the vast army of soldiers stationed at Ft. Benning in Columbus, Georgia, just over the Alabama line. The city was run by a tough local mafia. After Albert Patterson was elected, they killed him.
Albert Patterson's young son and law partner, John, ascended to Attorney General after his father was elected and assassinated. John Patterson had a very successful term as Attorney General and fulfilled his father's promise to cleanup Phenix City. He ran the loan sharks out of Alabama and prosecuted some of Big Jim's political cronies who had gotten too greedy.
In the meantime, a movie entitled "The Phenix City Story" had been made about the corruption and cleanup of Phenix City that portrayed John Patterson very favorably. It seemed every Alabamian had seen the film. There was still a lot of sympathy for what the mob had done to Patterson's father. When Patterson joined the Governor's race, Faulkner and Wallace did not realize what an icon Patterson had become. It was not until the votes were counted that Faulkner and Wallace realized they had been running against the wrong man.
Patterson led the fourteen man field with 196,859 votes. Wallace ran second with 162,435. Faulkner ran third with 91,512. A. W. Todd, the popular Commissioner of Agriculture from Russellville, ran fourth with 59,240. Patterson had run a brilliant, well-organized campaign, masterminded by Charles Meriwether, who had become a power behind the throne Capitol power broker. Patterson also captured the race issue. Although Wallace and Faulkner were racist segregationists, Patterson had become the most ardent and was perceived as the anti-integration candidate.
Faulkner endorsed Patterson in the runoff against Wallace. Wallace fought hard and tried to bait and debate Patterson. However, Patterson adroitly ignored Wallace and hid out campaigning in the country. Patterson beat Wallace by 65,000 votes in the June 3 runoff and became the youngest man, at age 36, to ever be elected Governor.
Patterson beat Wallace, soundly. Wallace realized that race was the issue and Patterson had won with this issue. Wallace was distraught at the loss. He went into a month of deep depression. Afterwards, he got up, started campaigning and never stopped for four years. Wallace would not be denied in 1962.
See you next week.
---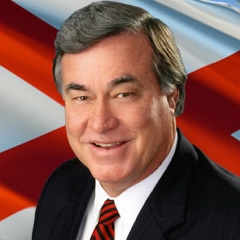 Alabama's premier columnist and commentator, Steve has analyzed Alabama politics for national television audiences on CBS, PBS, ABC and the British Broadcasting Network. Steve has been an up close participant and observer of the Alabama political scene for more than 50 years and is generally considered the ultimate authority on Alabama politics and Alabama political history.
All author posts