Unless you are a political junkie you probably have already grown weary of this year's drawn out presidential race, which is on course to be the longest and most expensive on record. It has been raging for well over a year and we still have five months to go before the final verdict.
The race has seen more turns than the Indianapolis 500 and has left the pundits with continuous egg on their faces as they have tried to prognosticate the outcome. These so-called experts have already missed the mark three times in the Republican contest. McCain was the early favorite, but faded this time last year. Then Rudy Giuliani was dubbed the inevitable nominee, until Hollywood's Fred Thompson came on the scene and it was suggested he would waltz away with the nomination. However, Thompson quickly faded and exited the stage and McCain arose from the dead to become the Lazarus of the campaign.
Although McCain has never become the darling of the religious right, he will be the GOP nominee. He will also carry the mantle as the oldest person nominated by either party. Contrary to what late night television comics are suggesting, 72 does not categorize a person as Methuselah in this day and time.
If the pundits missed the mark on the Republican side, they were completely bamboozled by the Democratic contest. Hillary Clinton was the odds-on favorite to win the nomination and the White House. The Las Vegas odds makers made her a prohibitive favorite. They never saw the Obama tsunami coming. The Freshman Senator from Illinois is a phenomenon never before seen in American politics. Anybody could tell he had charisma and oratorical magic, but Obama has been like the first black Elvis Presley and Beatles combined. Obama appears to have wrestled the nomination from the vaunted Clinton machine. Clinton assumed it was her birthright and that she was the heir apparent. She has fought valiantly, but when all the delegates are seated and votes counted Obama will probably be the Democratic nominee.
Given the unpopularity of the Iraq war, Bush's low approval rating and a terrible economic mess, a Democratic victory appears inevitable. Indeed Obama and Clinton have raised ten times more money than the Republican candidates and generic polls show Americans favor a Democrat by fifteen points. However, an amazing contradiction that is hard to explain, considering all the tea leaves point to a Democrat winning the White House, is that in a head to head race both Obama and Clinton run dead even with John McCain.
One obvious explanation is that voters are uneasy or uncertain about Clinton and Obama. Since day one the book on Hillary Clinton was she could not win because her negatives were so high. She has a stratospheric negative approval rating almost as high as George Bush. Almost 50% of all voters do not trust her and most of them think she flies around the country on a broom. She would have a hard time winning.
So the big question is can Barack Obama win? My prediction is probably not. Obama has not been vetted like he will be in the fall. About two weeks prior to Election Day you will see the Rev. Jeremiah Wright screaming incendiary comments profanely denouncing America. You will also see Obama deriding small-town Americans for liking their churches and guns. This GOP script will be federated with a final statement that not only is Obama un-American he also has the most liberal voting record in the U.S. Senate. That rating includes Senators Ted Kennedy and John Kerry who have both endorsed Obama. I suspect Obama has already been defined to the American independent blue-collar voter as a left-wing ultraliberal.
Under the Electoral College system, the election will boil down to three states: Florida, Ohio and Pennsylvania. Obama overwhelmingly lost to Hillary in all three and McCain currently leads Obama in all three. If Obama is betting on young people turning out to vote, the casinos in Las Vegas would love to see him coming. McCain appears cavalier, unconcerned and almost disinterested. He probably knows how true the old political maxim is that more people vote against someone than for someone.
This match up is a recipe for a Democratic disaster in Alabama. It would be a pretty safe bet that McCain carries Alabama. Early polls indicate McCain has a twenty point advantage, but after the fall vetting McCain's margin of victory will probably exceed twenty points in this state. However, anything can happen in politics and it has been a strange year.
---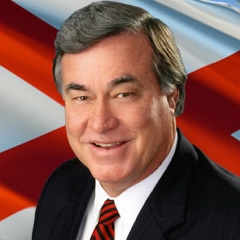 Alabama's premier columnist and commentator, Steve has analyzed Alabama politics for national television audiences on CBS, PBS, ABC and the British Broadcasting Network. Steve has been an up close participant and observer of the Alabama political scene for more than 50 years and is generally considered the ultimate authority on Alabama politics and Alabama political history.
All author posts