While a student at the University of Alabama I had the opportunity to intern with the Dean of Students, Dr. Joab Thomas. A few years later Dr. Thomas became President of the University and I was elected to the legislature. He invited my wife and I to sit with him at an Alabama game. We had just had our first daughter and she seemed to us quite precocious. Dr. Thomas and I were discussing my newborn and the topic of her early education came up. I somewhat lamented the fact to him that she might not be able to compete academically as well as she might in college because she would be raised in a small town and not have the advantages or competition that a larger city school might offer.
Dr. Thomas, who himself was from the small town of Russellville, was a Harvard educated botanist and had done quite well academically. However he shed an interesting light on the difference in growing up in a small city as opposed to a large one. He said a person from a small place who has leadership talents can develop them better than someone from a large place. It is much easier in a small town to be class president, captain of the football team, homecoming queen, and be the big fish. It allows someone to develop confidence and leadership abilities that may far exceed the slight advantage from their academic development. That small town person grows up expecting to be the leader. They expect to be governor or president.
Dr. Thomas suggested that I look around and do some research on the success of small town boys. Since I knew politics I took the Alabama political arena and much to my amazement Joab was right. Small town boys dominated Alabama politics and the Governor's office.
A look at the past 60 years tells the story. Big Jim Folsom grew up in Elba and lived his adult life in Cullman. George Wallace was from the small hamlet of Clio in Barbour County and his wife Lurleen was from the small town of Northport in Tuscaloosa County. Albert Brewer was from the middle size city of Decatur, but still no metropolis. John Patterson's home was Phenix City but he was born in a Tallapoosa County crossroads. Fob James was from the small east Alabama valley town of Lanett. Guy Hunt was from the village of Holly Pond in Cullman County. Jim Folsom Jr. is from the city of Cullman like his father. Our current governor, Bob Riley, is from the small Clay County town of Ashland.
The only city Governor of Alabama in the last 60 years was Don Siegelman who is from Mobile. Therefore, during the last 60 years that is 8 to 1 small town governors over big city, but if you count Wallace's four terms, Big Jim's two, and Fob James's two that would make it 13 to 1. You could make it 14 to 1 by including the real Governor over the past 20 years, Dr. Paul Hubbert, who is from the small village of Hubbertville in rural Fayette County.
This small town dominance does not end with Alabama governors. A cursory look at the presidents over the past 60 years reveals that our U.S. Presidents were small town boys. Harry Truman was from Independence, Missouri. Dwight Eisenhower was from a small town in Kansas. Lyndon Johnson was from a small town in east Texas. Richard Nixon was from a small town in California. Jimmy Carter was from the small hamlet of Plains, Georgia. Ronald Reagan was from a small town in Illinois. George Bush Sr. is from a small place in Connecticut and his son, George W. Bush, calls Crawford, Texas home. Bill Clinton was from the small town of Hope, Arkansas. Only John F. Kennedy was from a big city. Boston was his home. That is nine small town presidents and one from a city. If you include in the count those who were elected two times it is 14 to 1.
Dr. Thomas was right in his assessment of success inherent in politics and growing up in a small town. He said if you think it is true in politics you should read the almanac of success in business because it is just as dominate with small town boys.
---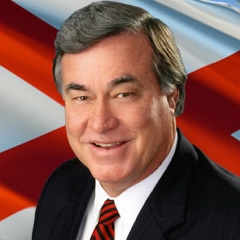 Alabama's premier columnist and commentator, Steve has analyzed Alabama politics for national television audiences on CBS, PBS, ABC and the British Broadcasting Network. Steve has been an up close participant and observer of the Alabama political scene for more than 50 years and is generally considered the ultimate authority on Alabama politics and Alabama political history.
All author posts