As a young boy I would go down to the county courthouse and talk politics with my Probate Judge. He was a crusty old fellow and a veteran politician. He had been Sheriff and served one term in the State Senate prior to being elected Probate Judge. The Probate Judge position in Alabama in the 1960s was the brass ring. You were the titular head of county politics and basically the king of the county. The Probate Judges were also paid a kingly salary because they were on the fee system. As a result they received a cut off of every car tag and fishing license sold in the county. It was not unusual for the Probate Judge in a rural county to make $100,000.00 per year in 1965.
My Probate Judge had been in politics all his life and he knew politics. I knew that I was learning from the master when he would talk with me. We would sit in the lobby of the courthouse so that he could speak to all the farmers when they came in to pay their taxes. Little did they know that he was getting rich off their fees and taxes.
I remember one day when I was about twelve we were sitting together at the courthouse talking about politics and there was a pause. I knew that when he took a long draw on his ever present non filtered cigarette, looked at me through glinting eyes, cleared his throat and said, "Steve old boy I want to tell you something that I want you to remember," an important political lesson was about to be imparted. On this particular day what he had to say amazed me. He said, "When you get old enough we want you to run for the Legislature and you will need the labor vote." Having studied Alabama politics this seemed odd. I was sure that labor was of little importance in a largely rural, agrarian state such as Alabama and if not all over the state at least in a rural wiregrass county. I could understand how in Jefferson or Tuscaloosa counties it might be essential to have the labor vote, but not in my area. My Probate Judge saw my surprise so he explained how in the southern part of our county most of the people who lived there, but did not farm full time, worked at Ft. Rucker and were unionized. In addition, the shirt factories in Troy and Brundidge were unionized. He further elaborated that statewide it was vitally important to have the labor vote because "Big Jim" Folsom would have never been elected Governor in 1946, nor John Sparkman U.S. Senator that same year, without the endorsement and support of labor.
This lesson so intrigued me that I set out to study his statement. I knew he must be right about Pike County because he was the political king, but I wondered if the same applied statewide. After a careful and exhaustive study I discovered that Alabama was the most heavily unionized state in the south, not just on a per capita basis but the largest period regardless of the size of the state. It was true from one end of the state to the other. The Tennessee Valley was totally unionized from the craftsmen working for TVA to the large plants including Reynolds Aluminum in the quad cities of Florence, Tuscumbia, Muscle Shoals, and Sheffield. The biggest employer in Gadsden was Goodyear Tire and it was unionized. The biggest employer in Tuscaloosa was Goodrich Tire which was also unionized. By far the largest industry in Alabama at that time was the steel mills of Birmingham. The city was built around coal, iron ore, and steel production and the steelworkers were all union. The most dominant employer in Mobile was the state docks and the dock workers were union.
Alabama indeed was a union dominated state. This was very true during the economic manufacturing growth and expansion from the end of World War II through the mid 1960s. The loss of manufacturing jobs nationally has cut into Alabama's manufacturing base and caused union membership to decline. Although labor is still strong today, it was the king for twenty years from 1946-1966. Most smart candidates running for Governor were aware of this fact and sought the support of these unions.
---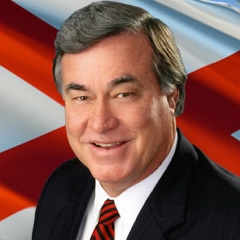 Alabama's premier columnist and commentator, Steve has analyzed Alabama politics for national television audiences on CBS, PBS, ABC and the British Broadcasting Network. Steve has been an up close participant and observer of the Alabama political scene for more than 50 years and is generally considered the ultimate authority on Alabama politics and Alabama political history.
All author posts