With Labor Day approaching it signifies that the long hot summer will soon be coming to an end. It seems that the summers are getting hotter and hotter. I was born and raised in south Alabama so I was accustomed to long hot summers. I remember when there was no air conditioning in houses or cars. It was hot, but seems hotter today. I think we have gotten softer, but I also believe in global warming. It is not just a theory. The average temperature has increased several degrees in the past decade. It also seems that we do not seem to have the spring or fall seasons anymore. All of a sudden one day in mid May it is 86 degrees and it never goes below that through mid September, or maybe even October. We have about 5 months out of the year where the temperature is mostly in the 90s.
This Monday is Labor Day. It usually does not cool off much, but we Alabamians seem to think that Labor Day marks the unofficial end of summer. I guess it is because it also usually marks the beginning of college football season.
For those of us who are political junkies Labor Day also marks the beginning of the political season. In political years most campaigns for the November general election kick off on Labor Day. This year, being an odd numbered year, is not an election year but next year is a biggie because 2006 is the year of the Governor's race. The big year in Alabama politics happens every four years. Beginning in two weeks I will start a twelve week series on the history of Alabama Governor's races beginning with 1962 and covering the forty year history of 1962-2002. I hope that you will enjoy the series.
The serious early bird candidates for Governor in 2006 will begin their campaigns this Monday. Where will they start? There is an event held in the northwest corner of Alabama known as the Terry Family Reunion. It is the largest family reunion in Alabama. Serious Alabama politicians know about this yearly event that has been going on for many years. Not everyone who attends this family reunion has Terry family roots but a good many do. It has become a must do event for aspiring statewide and definitely local candidates. Every candidate for Sheriff, Probate Judge, Legislature or Constable will be at the Terry Reunion which is held in the corner of Lawrence County. It is an event for all politicians but especially for those from the Quad Cities of Sheffield, Florence, Tuscumbia, and Muscle Shoals and also for politicians from the counties of Colbert, Lauderdale, Franklin, Lawrence, and Morgan.
The Terry Family Reunion will have everything to eat, especially good barbeque. There will be political speeches and lots of one on one campaigning. This year will be a practice year and only the early bird candidates will show, but 2006 will be a must show event.
Although there will be Labor Day barbeques from one end of the state to the other, none will be as political as the Terry Family Reunion just south of Tuscumbia and just north of Moulton and Russellville.
Labor Day is also a day to salute the American worker. We salute and honor our working men and women and as we salute and honor our Alabama workers it should be noted that Alabama has historically been one of the most unionized states in the South. My column next week will elaborate on this fact.
Happy Labor Day!
---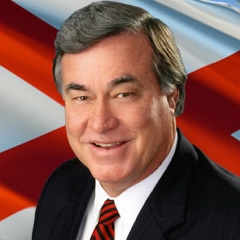 Alabama's premier columnist and commentator, Steve has analyzed Alabama politics for national television audiences on CBS, PBS, ABC and the British Broadcasting Network. Steve has been an up close participant and observer of the Alabama political scene for more than 50 years and is generally considered the ultimate authority on Alabama politics and Alabama political history.
All author posts