The early jockeying for position has already begun in earnest for the 2006 Governor's Race. It is none too soon, as qualifying will be well under way one year from now. The primaries will be in June with the general election in November next year.
A horserace is developing with four face card candidates lining up for the race, two Democrats and two Republicans which means you will see a donnybrook in each primary. All four enjoy household name identification and all four have run successful statewide races. There may be other candidates, but the big four will be the players.
Only one has been shy or tentative about his plans. Gov. Riley is still holding his cards close to the vest as to whether he will run for re-election. The other three have fired warning shots making it clear that they were going to answer the bell when it dongs to enter the ring next year.
Lucy Baxley, Don Siegelman, and Roy Moore sent the obligatory signal that they were "interested" late last year. You can bet all three are raring to go. Lt. Governor Lucy Baxley made a declaratory statement in early fall, that was not coy, that she was planning to run for Governor. Lucy entered politics relatively late in life. She has been elected three times statewide, twice as Treasurer and once as Lt. Governor in 2002. She is 67 years old and figures that if she is to become the second female Governor of Alabama, that there are not many more shopping days until Christmas.
If she were elected she would be 69 when sworn in and she indicates that she may want to serve only one term. However, she doesn't appear to be too worried about her age when it comes to campaigning. She has crisscrossed the state making speeches and cutting ribbons at an indefatigable pace for the past two years. Lucy is running and running hard.
It appeared that she had the deck cleared for easy sailing through the Democratic Primary when Don Siegelman was indicted last year. When he was cleared by Federal Judge U.W. Clemon, he was back on the campaign trail in full force the next day. He has not, and will not, slow down. He is a political animal who will work day and night to return to the Governor's office. Most observers of the Montgomery political scene predict that the only thing that will preclude Siegelman from running for Governor is if he is dead or in jail. The Montgomery Federal Grand Jury investigation of his administration is still out and that cloud hovers ominously over his campaign. But until that shoe drops, if it does, he is running day and night. To make clear his intentions he e-mailed and summoned all who would listen, including the media, to his Governor's Listening Post tour of the state which began in Huntsville in January. He discusses education funding, tax reform, constitutional reform, and yes, an education lottery. It looks like he plans to ride the lottery horse one more time.
Therefore, from all indications Siegelman and Baxley will be the horses in the Democratic Primary. Both enjoy stratospheric name identification. Over 80% of Alabamians can identify Lucy and Siegelman, which is what caused House Speaker Seth Hammett to avoid the race. The initial polling done for Hammett revealed he had only a meager 3% name id. However, Lucy enjoys a very high favorable rating and Siegelman a very high negative.
There is no question that Lucy is a stronger candidate for the Democrats in the General Election. She transcends party lines and with the Democratic base vote and her popularity among independent and female voters she will be tough for a Republican candidate to beat in November. Her biggest hurdle may be to get by Siegelman in the Democratic Primary. He has a very loyal following among traditional hardcore Democrats stemming from years of working in the vineyards. I will handicap the Republican horses next week.
---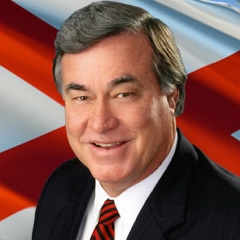 Alabama's premier columnist and commentator, Steve has analyzed Alabama politics for national television audiences on CBS, PBS, ABC and the British Broadcasting Network. Steve has been an up close participant and observer of the Alabama political scene for more than 50 years and is generally considered the ultimate authority on Alabama politics and Alabama political history.
All author posts