In every Legislative Session there arises a surprise or sleeper issue which surfaces as a major headline grabber almost out of the blue. This year is no exception. What I will call the BellSouth issue has practically dwarfed the financial problems in the General Fund budget. It has taken the front page away from the dark hole in Medicaid funding and other controversial issues. It has become the full employment bill for lobbyists. Both sides have armed themselves with the highest paid, hired gun lobbyists in Montgomery. The Senate has spent an inordinate number of days on the issue and it has yet to arrive in the House. It is the subject of conversation on Goat Hill and the combat and dialogue has spilled over to statewide television and newspaper advertisements.
At issue is whether BellSouth should get out from under the control of the Public Service Commission for their rate structure for cell phones, broadband, and other nationwide telecommunication ventures. BellSouth argues that it is unreasonable in today's worldwide competitive communications business for the phone company to be required to go before the Alabama Public Service Commission every time BellSouth needs to adjust its Cingular rates to compete with Verizon.
Most editorialists in the state who have studied the issue agree with BellSouth's position that it should be unburdened from the cumbersome, and probably outdated, Public Service Commission process. Most Alabamians seem to care less. The issue is flying below the radar screen of their limited political interest and is truly a non issue with voters. The BellSouth issue will hardly affect a legislative race next year. The bill probably has the votes to pass and probably should. The Huntsville Times summed it up well in an editorial by saying, "When telephone service was an integrated monopoly, close regulation was appropriate and necessary. But the field of telecommunications has changed. If the forces of the free market are to apply, they must apply to BellSouth by virtue of the latter's regulatory burden. If the experience of other states holds true, deregulating BellSouth may well bring costs down for consumers as a whole."
The Mobile Register stated, "It used to make sense to heavily regulate the local phone company, when it was the only provider in town. But today's intense competition among phone companies, wireless services, cable TV and the Internet renders heavy regulation archaic."
Obviously, the three Public Service Commissioners are against the BellSouth legislation because it reduces their power. The most vocal opponent has been Commissioner George Wallace Jr., who is probably trying to work the issue politically for as much mileage as he can, the same way his famous father used to demagogue and rail against the power company. He believes the populist attack the big utility approach is still alive today. He hopes it catapults him into the Lt. Governor's office. However, his posturing is probably all for naught. The average Alabamian has little interest in this issue. The legislation will probably pass and it more than likely will not affect phone bills. If anything, it will probably lower them. Most Alabama voters do not even know there is an Alabama Public Service Commission and all they know about George Wallace Jr. is that his daddy was Governor for twenty years.
In times past, the Public Service Commission was very powerful. It was used as a stepping stone to further political careers and even spawned two governors. However, the last was over fifty years ago when Gordon Persons parlayed his position on the Public Service Commission into the Governor's Office in 1950.
Eighty years ago the present day Public Service Commission was known as the Railroad Commission. It regulated all railroads, utilities, and trucking. However, when railroads, utilities, and trucking concerns become national and international in their business dealings they should no longer be shackled with state regulation.
Times change and so do telephone communications. Most young people do not even have land based phones. My daughter at the University of Alabama only has a cell phone. BellSouth will win this fight, but it has been good drama and a good sleeper issue.
---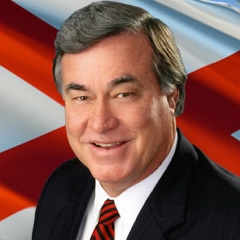 Alabama's premier columnist and commentator, Steve has analyzed Alabama politics for national television audiences on CBS, PBS, ABC and the British Broadcasting Network. Steve has been an up close participant and observer of the Alabama political scene for more than 50 years and is generally considered the ultimate authority on Alabama politics and Alabama political history.
All author posts