An interesting twist in Alabama political history has occurred in only recent years. That is the transformation of our Port City of Mobile from a political wilderness to a political oasis. Historically and throughout most of my lifetime, being a resident of Mobile was the kiss of death politically. Our second largest city had never had a Governor or Senator or even a major statewide office holder. Mobile was thought of by the rest of the state as an island which it basically is. It also is like another state or country. Being a port city it had a distinct New Orleans flavor with it's Mardi Gras balls, New Orleans architecture, and lack of concern for or disdain for partaking of alcohol. It seemed like a loose party town and the rest of the state felt like it was a little odd and not really part of the rest of Alabama. This didn't keep politicians from working the island feverishly for votes. Wallace and Folsom captured large pluralities in Mobile which carried them in good stead as they entered the rest of the state. Big Jim loved the social life of Mobile.
The most striking difference was the fact that Mobile is overwhelmingly Catholic and the rest of the state predominantly Protestant. There is a marked difference in cultures. Mobile is also very socially structured with deep social roots and society going back hundreds of years as Mobile far outdates Alabama in history.
The first person to end the political drought on the statewide elections for Mobilians was Don Siegleman. Siegleman was a native of Mobile but ran statewide as a resident of Jefferson County which is where he lived when he ran for Secretary of State in 1978.
I met Don Siegleman when I was a Freshman at the University of Alabama. Don was a Senior and President of the SGA and a bonafide political success at campus politics. He looked to be primed for success in statewide politics. He was even then extremely ambitious and hardworking. I remember thinking to myself the poor guy, he would definitely be Governor one day if only he was named Jones and came from Opp, for you see Don Siegleman had a tough name to overcome to be in Alabama politics. You can hardly pronounce it or spell it, and to top it all off, he was from Mobile, which I knew at the time was a heavy albatross historically for him to overcome. How he ever became Governor is still a surprise to me. Beside being from Mobile with a weird name, he was also a liberal and proud of it. He was George McGovern's state campaign manager.
Well, Siegleman broke the ice with his statewide win for Secretary of State in 1978. After this, it has been Katie bar the door for the Port City. Mobile has taken over Alabama politics like a tidal wave arising out of the Gulf of Mexico.
Charlie Graddick, Mobile's District Attorney, became Attorney General in 1982. Siegleman was reelected Secretary of State. Then in the 1990's Jeff Sessions became Attorney General and then on to the U.S. Senate, the first Senator from Mobile in over a century. Siegleman became Lt. Governor and then Governor. During the last quadrennium the Governor, Don Siegleman, the Lt. Governor, Steve Windham, and Attorney General, Bill Pryor were all from Mobile. It is unbelievable how it has changed. The irony of it struck me the other day when a college student intensely interested in politics asked me the question, "What makes Mobile so dominant in state politics and why are so many people from Mobile elected to top statewide offices?" I smiled and thought if only you were a little older and had not just been observing politics for the past 10 years you wouldn't have asked that question.
Things do change even in Alabama politics.
---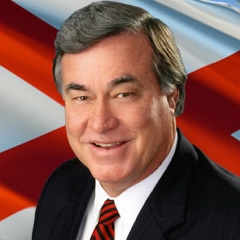 Alabama's premier columnist and commentator, Steve has analyzed Alabama politics for national television audiences on CBS, PBS, ABC and the British Broadcasting Network. Steve has been an up close participant and observer of the Alabama political scene for more than 50 years and is generally considered the ultimate authority on Alabama politics and Alabama political history.
All author posts