Now that the dust has settled on the June 1 primaries we will know who will be coming to the dance in November. Our primaries are too late to have an effect on the Presidential race. The race was over by the time it got to us in June. Therefore it was no surprise that Bush and Kerry got more than 90 percent of the balloting. The only real choice was who was to be elected as delegates to nominate Bush and Kerry in New York and Boston later this summer. There was little doubt that the incumbent congressmen from both parties would win. The size of their victories is startling. It shows the difficulty a challenger has in unseating an incumbent congressman. Incumbent Democratic Congressman, Arthur Davis, won an impressive victory over challenger Albert Turner, Jr. Davis' 88-to-12 margin showed strong support from blacks and whites in his 7th District. It is Alabama's only majority minority district. Likewise, 6th District Congressman, Spencer Bachus, trounced Roy Moore's attorney, Philip Jaurequi, by a similar 87-to-13 landslide in the suburban, overwhelmingly Republican, Birmingham-based district. Bud Cramer annihilated his democratic opponent 90-to-10 in the 5th District Democratic Primary. There is a runoff in the Republican Primary to challenge Cramer in November. Davis and Bachus are unopposed.
These congressional races were sideshows as the real drama was in the Republican Primary for three State Supreme Court seats. Two of the seats were open because of the retirement of Judges Houston and Johnstone. The third became a referendum on the reelection of Justice Jean Brown. Brown was the only Supreme Court Judge standing for reelection. All eight, including aforementioned Houston and Johnstone, voted to uphold a federal court order to remove ousted Chief Justice Roy Moore's 5,300 pound Ten Commandment Monument from the State Judicial Building. Therefore, Judge Jean Brown was the only Justice running who voted to uphold the federal order against Moore. Her race became the pivotal referendum. She was the first to face voters. She lost her seat to Moore's closest and fiercest ally, Tom Parker. Parker, a 52 year-old Montgomery lawyer, was beside Moore all the way during his fight to keep the Commandments in place and also while he was being impeached for disobeying the federal court order to remove the monument.
The Brown vs. Parker race became the focal point contest of the primary. It crystallized into a battle between the religious right who supported Parker and the business interests who supported Brown. The social conservatives prevailed in a close race with Parker edging Brown 51-to-49 among the Republican Primary voters. A victory for Roy Moore. It showed how strong Moore is among Republican Primary voters. He endorsed and worked for Parker who welcomed Moore's support and built his campaign around his religious beliefs rather than his credentials as a lawyer or a judge.
In the Place 2 race, Shelby County District Judge, Patti Smith, won a very impressive 58-to-42 victory over State Appeals Court Judge, Pam Baschab. This wa Smith's first statewide race. Baschab had been elected statewide twice as an Appeals Court Judge. She has now lost two statewide races for Supreme Court.
Jefferson County Probate Judge, Mike Bolin, led a four-person field over three experienced judges. Bolin got 50 percent to lead former Covington County Judge, Jerry Stokes, who got 26 percent, Montgomery Judge, Peggy Givhan, got 17 percent, and Houston County Judge, Denny Holloway, got 7 percent.
Patti Smith and Mike Bolin were backed heavily by the Business Council and other business interests. Pam Baschab and Jerry Stokes were selected by the Conservative Christian slate the same as Tom Parker. The Christian Coalition slate got a ton of money put into their campaign coffers late in the campaign by the plaintiff trial lawyers which they failed to report on their campaign ethics statement.
Likewise, Bolin and Smith got a large out of state contribution from a vague group called The American Taxpayers Alliance that paid for a joint ad for the two. Both said they did not know anything about who gave them the money or how the ads got produced and placed on television. The ads played heavily on Birmingham television and may have made the difference in Bolin's and Smith's victories.
The Moore pull did not seem to play as heavily in the races between Bolin and Stokes in Place 2 and Smith vs. Baschab in Place 3. Bolin and Smith may have been the candidates of Business and Stokes and Baschab the candidates of Moore, but Bolin and Smith had not voted against Moore and the incumbent Jean Brown had. There was not as much fire there.
My guess is that Mike Bolin and Patti Smith won because they were the Jefferson and Shelby County local candidates in these vote rich Republican counties. Almost one-third of the Republican votes cast in the state Republican Primary are cast in Jefferson and Shelby counties.
All three Republican victors, Tom Parker, Patti Smith, and Mike Bolin will face Democrats in November. The three Democratic candidates were unopposed.
---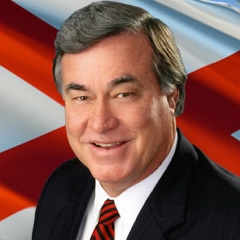 Alabama's premier columnist and commentator, Steve has analyzed Alabama politics for national television audiences on CBS, PBS, ABC and the British Broadcasting Network. Steve has been an up close participant and observer of the Alabama political scene for more than 50 years and is generally considered the ultimate authority on Alabama politics and Alabama political history.
All author posts