Richard Shelby's last week as our United States Senator was poetically amazing.
The nation watched as he gave his farewell address to the Senate.  His speech was followed by a tribute from his longtime friend Senator Patrick Leahey.  Senator Shelby  and Senator Leahey from Vermont are best friends and co-chaired the U.S. Senate Appropriations Committee together for their final six-year terms, which ended January 3, 2023. They walked out together after a lasting three decade partnership. 
The national media made note of the fact that Leahey, a Democrat, and Shelby, a Republican, were the last vestiges of bipartisanship in Congress.  They worked together congruently to get things done for the nation and yes primarily for the states they represented.  Shelby, who served 36 years as our senator, retired at 88 last month.
To say that he went out with a bang would be a dramatic understatement.  As he was making his farewell adieu speech, he and Leahey were crafting their final federal budget. The budget was passed the next day, two days before Christmas. When the experts discerned the 4,000 plus page document, it revealed that Richard Shelby had again played Santa Claus to the people of Alabama.  He not only brought most of the money from Washington to Alabama, practically speaking he brought the entire North Pole and Rudolph and all of the reindeer to the Heart of Dixie as he was walking out the door of the U.S. Senate.
The national media dubbed Shelby the "Greatest King" of earmarked procured money for their state in history. Indeed, the amount of federal dollars Senator Shelby brought home to our state as Chairman of the Senate Appropriations Committee is historical. He probably surpassed the previous "King of Pork" for their state, the late Robert Byrd of West Virginia.
In his last hurrah, Senator Shelby appropriated a mind boggling $660 million of extra earmarked dollars to our state.  Folks, that is quite an amazingly, unfathomable, incomprehensible, Christmas gift for our state.
As I was exchanging Christmas greetings with a state senator who is a close friend, I commented about Shelby's departing $660 million Christmas gift to the state.  He quietly commented, "Flowers, that is over 25 percent of our entire state General Fund Budget."  However, if you dig deeper into the federal budget that Shelby passed, his $660 million is also met with upgrades of funds Shelby allocated in previous years to amount to $4 billion.  That is more than the entire State of Alabama's annual budget. Every part of Alabama was showered with Shelby's gifts, which will make generational changes to our state.
In Huntsville alone Shelby has played a pivotal role in shaping this Tennessee Valley area into the science, space, and technology capital of the south, if not the nation. In his final hurrah, the Huntsville Redstone area received funds for Army research weaponry, a space launch system, nuclear thermal propulsion for the Marshall Space Flight Center, construction of a new FBI Headquarters, which Shelby moved from Washington to the Redstone Arsenal in Huntsville, and several other new buildings at the Redstone Arsenal.
Shelby earmarked a great deal of federal money for his home area of Tuscaloosa including millions for new buildings and education centers for the University of Alabama, funds for a new bridge, and millions for the Tuscaloosa airport.
He took care of the Montgomery/Wiregrass area, which is military laden for years to come.  This area received multi-millions in new money for Ft. Rucker for flight training and Air Surface Missiles, along with millions for the Hellfire missiles made in Troy.
There is over a billion dollars going to UAB for biomedical research and new buildings. Shelby has been instrumental in transforming UAB into one of the most pronounced medical research institutions in the nation.
He took care of Mobile for generations to come.  There are millions of earmarked funds going to the Port City.  In addition, Shelby completed his mission of building Alabama a new deeper and wider Port with a $200 million dollar appropriation for the Alabama State Port Authority.
In my 2015 book, Of Goats and Governors: Six Decades of Alabama Political Stories, I have a chapter entitled "Alabama's Three Greatest Senators, John Sparkman, Lister Hill and Richard Shelby.  If I were writing that book today, Richard Shelby would be alone as Alabama's greatest United States Senator by far.
See you next week.
---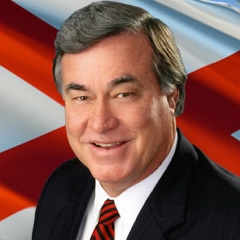 Alabama's premier columnist and commentator, Steve has analyzed Alabama politics for national television audiences on CBS, PBS, ABC and the British Broadcasting Network. Steve has been an up close participant and observer of the Alabama political scene for more than 50 years and is generally considered the ultimate authority on Alabama politics and Alabama political history.
All author posts