The longer I continue to write about Alabama politics, the more I realize that Alabama really is a "Big Front Porch" – a saying made famous by our legendary Alabama storyteller, Kathryn Tucker Wyndham.
I have been involved in the world of Alabama politics for 60 years.  I have been writing this column for over 18 years and that is longer than I served in the legislature.  I am sometimes asked whether I liked being in the Alabama political arena or writing about it better.  The answer is easy.  Writing is better.  It is more fun to be able to throw stones than to have stones thrown at you.
I am also asked at social or political events around the state what are some of your favorite political memories.  Indeed, I have been blessed to have met and known some of Alabama's best known political and literary figures and some of them well.  
I began paging in the Alabama Legislature at age 12, and met Governor George Wallace when he was in his first term as governor. Ironically, 20 years later I was elected to the legislature and Wallace was again governor for his fourth and final term. My legislative district included Pike, Barbour and Dale Counties so I represented Wallace in his home county of Barbour. Wallace loved the fact that I was now his representative. He would have me visit with him often in the governor's office and he would tell me political stories and maxims.  He told me a lot of inside stories about the Civil Rights era, as well as pre-Civil Rights, some of which I have shared with you and some I will share later.
One of my favorite friends in Alabama politics was the late Senator Howell Heflin.  Heflin was a very straightlaced gentleman. His daddy was a Methodist minister. He was truly a great man and one of the wittiest and best storytellers I ever knew.  He was a real Alabama hero and legend.  He was a decorated World War II veteran, one of Alabama's best lawyers, Chief Justice of the Alabama Supreme Court and our U.S. Senator for 18 years.  Most people who knew him well in Alabama and Washington simply referred to him as "Judge."
I wrote a glowing column about "Judge".  He appreciated the column.  It really was like a eulogy.  He liked to call me "Tree," a nickname I acquired in college.  After the column came out, he started getting calls from all over the state.  He called to thank me.  I told him, "Judge I'm in about 60 papers and about 30-40 of the papers send me copies of the paper and why don't I gather those up and bring them to you and read what title they gave to your column."  He said, "Would you do that, Tree?"  I said, "Yes, I would enjoy a visit."  
He had retired from the Senate and was back home in Tuscumbia.  I drove to Tuscumbia for the day.  Got there for breakfast and stayed all day.  We perused the papers I had brought him, and I headed home.  Ole Judge died a few weeks later and I traveled back up to the Shoals for his funeral.  I was proud when the preacher used some excerpts from my column for Judge's eulogy.  
There was a throng of people at Judge's funeral, including quite a few famous and powerful members of the U.S. Senate.  I do not think that the Florence airport had ever seen that many private jets.  I had already had my goodbye with Judge and the line was very long to greet "Mrs. Mikie," Judge's wife and Tom his son.  Judge's wife was from a prominent North Alabama family, the Carmichaels, thus he had coined her nickname "Mikie."  As I was leaving, I heard someone shout my name, "Tree, wait."  It was Tom Heflin, the only child of Judge and Mikie.  Tom is a lawyer and a fraternity brother of mine from the University of Alabama.  He said, "I want to tell you something. When we went into daddy's bedroom the other morning and found him passed away, beside his bed was a large desk, and on the desk were all the papers you brought him the other day.  He had read them just before he went to bed."  It made me feel very good.  It is one of the most rewarding memories of my column writing days.
I will continue with more stories next week.
---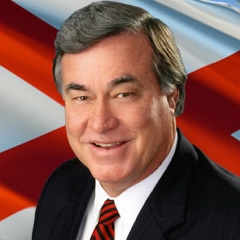 Alabama's premier columnist and commentator, Steve has analyzed Alabama politics for national television audiences on CBS, PBS, ABC and the British Broadcasting Network. Steve has been an up close participant and observer of the Alabama political scene for more than 50 years and is generally considered the ultimate authority on Alabama politics and Alabama political history.
All author posts