Usually in a gubernatorial year the Governor's Race grabs the spotlight.  However, our open Senate Seat with the avalanche of Washington dollars flooding into the Heart of Dixie, the Governor's Race has become overshadowed.
It is also an obvious fact of political life that an open Senate Seat is certain to be more competitive than a race with a popular incumbent governor running for reelection.  Incumbency is a tremendous advantage. You get free daily publicity just by governing. 
My prediction from the onset was that Kay Ivey would win reelection to another term and now with three months to the May 24 election, my prognostication is still that Governor Ivey will win a reelection victory.  Furthermore, my guess is that she wins without a runoff.
The best barometer of a gubernatorial outcome in a race with an incumbent governor running, is to look at how they ran the last time. Four years ago, Kay Ivey was a semi-incumbent. She had served over a year of Governor Robert Bentley's last term and was running for her first full term.
In that 2018 race, she trounced the entire field of GOP candidates and won without a runoff. Folks, that field she beat in 2018 was much more formidable than the one she faces this year.  If for no other reason, she beat Huntsville Mayor Tommy Battle one of the most qualified thoroughbreds to seek the brass ring in years.  He was well liked and from a vote rich area of the state and had grown his city to one of the fastest growing and prosperous cities in America.  Battle was well-financed and a good campaigner. Many of us wondered why he was seeking a job that was probably a demotion from being mayor of Alabama's largest and most prosperous city. 
Battle was just one of the carnage that Ivey destroyed in the 2018 GOP Primary.  Also left in the wake were popular Birmingham Evangelist Scott Dawson, as well as well-financed Mobile State Senator Bill Hightower.
She went on to trounce the last viable Democratic candidate to run for governor, Tuscaloosa Mayor Walt Maddox who was well-financed and a viable candidate.  Kay Ivey beat Maddox 60% to 40% in the General Election.  This Maddox race wrote the book for what is the benchmark level for what a Democratic candidate can get in an Alabama state race.  The bar is set at 40% for a Democrat.  Doug Jones' 39% to 61% loss for Senate in 2020 confirmed that threshold.
There are six unknown candidates who qualified to run as Democrats this year. The general election is irrelevant.  The winner of the May 24 GOP Primary will be governor.
The big question in the governor's race is not whether Kay Ivey wins, it is whether or not this 2022 field of candidates can force her into a June 21 runoff?  The answer is probably not.
There are only two viable opponents, Lindy Blanchard and Tim James.  The reason they are viable is that they have personal wealth to spend. Both are spending their dollars, which shows a commitment.  
Tim James and Lindy Blanchard are both working hard. One of them will finish second. However, that only counts in horseshoes and marbles.  Running second was good in the old days of Alabama politics, because the governor could not succeed themselves. Therefore, whoever ran second would win four years later.  It was called running a "get acquainted race."
In addition to Blanchard and James there are six other candidates vying to beat Kay Ivey. They all have some credentials and they are not all, "run for the fun of it" candidates.  Lew Burdette is a successful businessman who heads the King's Ranch in Birmingham.  Dean Young is an ultra-right-wing candidate who has run several times for office in Mobile and is known in that area of the state. Dave Thomas is a former state representative and current Mayor of Springville in St. Clair County. Some voters may think he is the founder of Wendy's. Dean Odle is an Opelika minister. Stacey George is a former Morgan County Commissioner who has run for governor before.
If Burdette gets 6%, Young gets 5%, Thomas gets 4%, and George and Odle get 3% each, that adds up to 21%.  That many candidates could force a runoff.  We will see.
See you next week.
---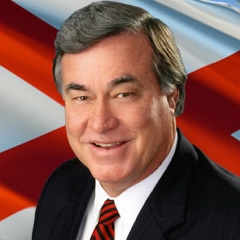 Alabama's premier columnist and commentator, Steve has analyzed Alabama politics for national television audiences on CBS, PBS, ABC and the British Broadcasting Network. Steve has been an up close participant and observer of the Alabama political scene for more than 50 years and is generally considered the ultimate authority on Alabama politics and Alabama political history.
All author posts