As has been my custom for 18 years, I like for my yearend column to be a remembrance of Alabama political figures who have passed away during the year.
We lost some good ones this year. We lost our oldest past governor, John Patterson in June.  Governor Patterson passed away at age 99 at his ancestral home in rural Tallapoosa County surrounded by his family.
Patterson was Governor from 1959-1963. He defeated George Wallace in the 1958 Governor's Race, which featured a field of 14 candidates. He is the only man to beat George Wallace in a governor's race. Patterson was Attorney General of Alabama prior to being elected Governor.  He subsequently was appointed to the Court of Criminal Appeals by Wallace and was reelected numerous times and retired as a Judge of the Alabama Court of Appeals. He was a treasure trove of Alabama political history. He was Governor during a turbulent time in Alabama history.
Former Alabama Attorney General Jimmy Evans died in February at 81. Evans was a native of Montgomery and was Montgomery County District Attorney prior to being elected Attorney General.
Retired Alfa lobbyist Milton Parsons passed away in March at 91. Milton was renowned on Goat Hill as a straight arrow and straight shooter. He was an honest, trustworthy, Christian gentleman.  He was Alfa's chief lobbyist for 50 years. He was a devoted family man and devout Christian.
Former Troy mayor, Jimmy Lunsford died in May at 78. He was mayor of Troy for 30 years. Economic development was his forte. He was a tremendous steward of the city's finances. He left Troy in good shape financially.  
Former Mobile congressman Sonny Callahan passed away at 88 in late June.  He was one of a long line of popular and effective congressmen from the first district. The list includes Frank Boykin, Jack Edwards, Jo Bonner, Bradley Byrne and Sonny. Congressman Callahan served 10 terms in the U.S. House of Representatives.  Prior to his two decades in Congress, he served in the Alabama House of Representatives and then six years in the State Senate. He was successful in the trucking business in conjunction with his legislative and congressional career.
State Representative Thad McClammy of Montgomery passed away at 79 in August. McClammy represented parts of Montgomery County for 27 years. I had the privilege to serve with Thad in the legislature. He was a real gentleman. His word was as good as gold. He had a tremendous turnout for his funeral. State Senator Kirk Hatcher did a fabulous job singing two favorite hymns.
Former State Legislator and longtime Geneva County Probate Judge Harold Wise died in August at 96 years old. He lived an amazing and colorful life. He was a loved and respected Geneva County political figure. He was the uncle to Supreme Court Justice Kelli Wise. Kelli adored him. He was her mentor. She says he sparked her love of politics and her desire to have a career in public service.
Retired Winston-Marion County Circuit Judge Bobby Aderholt passed away in September at 85. He was a 50-year public servant, as well as lay minister. People say he probably married or buried half the folks in and around Haleyville and that part of Northwest Alabama. There was a tremendous turn out for his funeral. He was revered. State Senator Greg Reed sang at his funeral. Judge Aderholt was the father of our senior congressman, Robert Aderholt who is completing his 25th year in Congress.
Former State Senator Jim Preuitt of Talladega died in September at 86. He was also a State Representative and Probate Judge of Talladega County. He was a successful businessman and family man.
We lost some good ones this year. 
Happy New Year!
---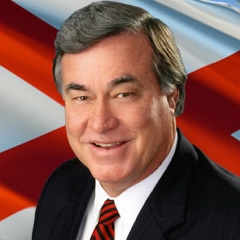 Alabama's premier columnist and commentator, Steve has analyzed Alabama politics for national television audiences on CBS, PBS, ABC and the British Broadcasting Network. Steve has been an up close participant and observer of the Alabama political scene for more than 50 years and is generally considered the ultimate authority on Alabama politics and Alabama political history.
All author posts