Alabama lost its oldest past Governor when John Patterson passed away last month. He died on the same land where he was born in rural Tallapoosa County.
Patterson was 99 years old, and he would have been 100 in September. He was the epitome of the greatest generation. He was a veteran of World War II. He volunteered for the Army as a private and left the Army at the end of the war as a major. Patterson then came home and obtained his law degree, then joined his father in the practice of law. He soon thereafter became Attorney General of Alabama, then Governor, then spent several decades as a Justice on the Alabama Court of Criminal Appeals.  Patterson's involvement with state government spanned half a century. 
John Patterson served as Governor from 1959 to 1963.  He holds the distinction of being the only person to ever beat George Wallace in a governor's race.
Patterson and Wallace were both making their first race for governor in 1958.  Patterson beat Wallace, soundly.  Wallace never stood a chance.  It would have been hard for anyone to beat a man in a race for Governor of Alabama, who had both the race issue and sympathy vote.
Patterson had the Ku Klux Klan endorsement in that race.  Wallace was actually considered a progressive and softer on the race issue than Patterson.  Patterson had become Attorney General of Alabama at a very young age after his father, Albert Patterson, was assassinated just 16 days after winning the race for Alabama's Attorney General in 1954.  
The elder Patterson had run with the promise to clean up Phenix City, which had been the most corrupt, sinful city in the South if not the nation.  It was the redneck version of Las Vegas.  However, unlike Las Vegas, everything they did in Phenix City was not legal or condoned.  
The east Alabama town near Ft. Benning and Columbus, Georgia was run by a corrupt rural mafia.  This mafia gunned down Albert Patterson in an alley behind his law office.  The younger Patterson was then picked to replace his father as the Democratic Attorney General nominee.  John Patterson became Alabama Attorney General at age 33.  Just days after his election, a movie was made about the Phenix City saga.  Between that and his well-publicized anti-civil rights actions, by the time John Patterson got ready to run for Governor of Alabama, he was a folk hero to Alabamians.
Wallace thought he was going to win the governor's race in his first try in 1958.  However, when he got into the heat of the campaign, he realized that he was running against a legend.  It seemed like everybody in the state had seen the movie "The Phenix City Story."  The sympathy for Patterson was too much to overcome.  In addition, the race issue had become paramount, and Patterson owned it.
After Wallace lost, he was in a deep depression for a few weeks, but finally got out of bed, shaved and looked in the mirror and said aloud, "I got out segged and I will never be out segged again."  A governor could not succeed himself at that time.  He knew Patterson could not run again in 1962.  He grabbed the race issue and ran nonstop for four years and captured the Governor's office in 1962.
Patterson did a good job as governor.  He was governor during the beginning of the volatile first movements towards Civil Rights.  A lot of it played out in plain view of his Governor's Office looking down on Dexter Avenue.  He took a very adamant, stringent position against integration and all of the protests.
Governor Patterson wrote his biography published by New South Books in 2008 entitled Nobody but the People, which was by the way his campaign slogan in his 1958 race for Governor.
We visited at length during the year he was touring the state with his book. During our visits, he revealed remarkable stories surrounding the era when he was Attorney General and Governor of Alabama.
In the last few years, we visited at his farm home in Goldville.  He was amazingly sharp.  His friends and relatives were surrounding him when he passed away. John Patterson has a special place in Alabama political history.
See you next week.
---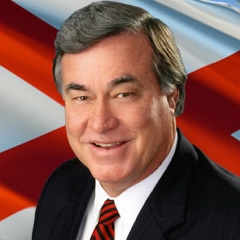 Alabama's premier columnist and commentator, Steve has analyzed Alabama politics for national television audiences on CBS, PBS, ABC and the British Broadcasting Network. Steve has been an up close participant and observer of the Alabama political scene for more than 50 years and is generally considered the ultimate authority on Alabama politics and Alabama political history.
All author posts