On the morning of the momentous November 3 Presidential Election Day, I began my day on my hometown radio station, WTBF in Troy, which has been my tradition for election days for over 30 years.  As the polls began to open around 7 a.m., we began getting calls that the people were lined up for almost a mile outside of the two most populous voting locations in Pike County.  Then, I started getting texts that a good many of the Republican boxes in major North Alabama cities had people waiting in line for two to three hours in voting precincts in Jasper, Hamilton, Cullman and Huntsville.  Folks in Talladega were showing up in droves driven by a local amendment.  When I voted around 10 a.m., the voting officials informed me that more people had already voted in record breaking numbers.  
About that time, I was receiving texts from other South Alabama locales like Daphne and Fairhope in Baldwin County and Enterprise and Ozark in the Wiregrass that records were going out the window.  In Dothan, where I had spoken the day before, people were calling to tell me that records were being shattered at the Westgate polling place, which is one of the largest Republican boxes in the state.  When I went on the popular Mobile talk radio Jeff Poor Show at 10:30 a.m., Jeff said reports were coming in of an unbelievable turnout.  
During the noon hour, I traversed to Montgomery for Talk Radio and interviews with my Capitol City television home, the Alabama News Network CBS 8 and ABC 32.  I saw the same thing happening.  At St. James Methodist Church where most of Wynlakes votes there were two-hour long lines.  At Woodland Methodist in Pike Road it was two to three, and at most of the Republican boxes in Elmore County, especially Millbrook and Wetumpka, there were three hour waits.
As I headed on to Birmingham for my election night TV appearance the scene in Shelby and Jefferson Counties was more of the same, if not more pronounced.  My daughter, who votes at Vestavia Hills United Methodist Church said the line had been out the door and around the church all day with no parking.  The two major voting locations of Hoover, the Finlay Center and Hoover Met, had lines that reached almost a mile.
Around 6:00 p.m., while discussing the unprecedented turnout with Secretary of State John Merrill, who had joined me on CBS 42, we saw an unbelievable line out the street at the prestigious Church of the Highlands voting location in Tuscaloosa.  The coup de gras was at around 9:30 p.m. a good two-and-a-half-hours after the polls had closed, our TV cameras showed a picture of Trussville City Hall where voters were still waiting in line to cast their ballot even though Trump and Tuberville had already been declared the winners by the Associated Press.
Secretary of State John Merrill confirmed what I knew by that time, that indeed the state of Alabama had an unprecedented, unbelievable, amazing, record breaking turnout – 2.3 million Alabamians voted despite COVID which shattered any previous voting participation record.  
The driving force had to unquestionably be driven by a fervor to vote for President Donald J. Trump.  The vote for President Trump was the largest for any candidate in the history of the state.  Trump garnered an amazing 62.7% of the vote, which surpassed his 62% against Hillary Clinton.  He provided immense coattails for Coach Tommy Tuberville who beat our-anomaly, liberal, two-year-tenured Democratic Senator Doug Jones by an amazing 60-to-40 shellacking.  Tuberville is now Senator Tommy Tuberville.  
PSC President Twinkle Cavanaugh set a record in her reelection bid with almost 1.4 million votes.  She gained the record by receiving the most votes for any candidate in a contested race outside the Presidency in state history.
Tuberville set the record for most votes for any senatorial candidate in state history.  He trounced Jones by over 20 points despite being outspent 4-to-1.
According to unofficial election night results the top Alabama Counties for Trump were Winston 90.3%, Cleburne 89.7%, Blount 89.6%, Marion 88.4% and Cullman 88.2%.  They were the brightest red in the ruby red Heart of Dixie.
See you next week.
---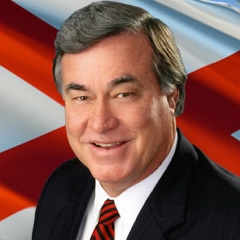 Alabama's premier columnist and commentator, Steve has analyzed Alabama politics for national television audiences on CBS, PBS, ABC and the British Broadcasting Network. Steve has been an up close participant and observer of the Alabama political scene for more than 50 years and is generally considered the ultimate authority on Alabama politics and Alabama political history.
All author posts