Now that the dust has settled on this year's elections, let's look back at who are the big winners and losers of the year.
The obvious winner in the Heart of Dixie is the Republican Party.  The GOP retained the reins of the state's highest office and every other statewide Constitutional position.  Kay Ivey was elected governor, overwhelmingly, as was Will Ainsworth as Lt. Governor, John Merrill as Secretary of State, John McMillan as State Treasurer, Rick Pate as Agriculture Commissioner, Jim Ziegler as State Auditor, Jeremy Oden and Chip Beeker as PSC members.  Our entire judiciary is Republican, all members of the Supreme Court, and Courts of Criminal and Civil Appeals.
There are 29 statewide office holders and all 29 are Republican.  However, more importantly the Legislature is overwhelmingly Republican.  More than two-thirds of both the House and the Senate are Republicans. That's what you call a super majority.  Our Republican legislature can pass anything they want without a Democratic vote or letting Democrats speak.
Our Congressional delegation is made up of six Republicans and one lone Democrat.  Folks, that makes us a pretty red state.
Several years ago, I had the honor of being a keynote speaker at the Boys State 75th Anniversary.  I had attended Boys State 45 years earlier as a high school leader and aspiring young politico.  I shared with these future political leaders this advice, "If you plan to run for statewide office in Alabama even if you believe you are a Democrat, you will need to run as a Republican."  This year's election reaffirmed and confirmed that truth. Winning the GOP Primary in Alabama is tantamount to election.
Therefore, to pick the biggest individual winner of the year, you have to look back to the GOP Primary. Young Will Ainsworth, a 37-year old Sand Mountain Legislator/businessman emerges as the Gold Star award winner of the year in Alabama politics.  His victory as Lt. Governor has propelled him onto the state political scene as the most prominent rising star. He was the top vote getter in the state on November 6th.  He is a clean-cut, successful, family man who has been vetted by a high profile, statewide race.
The second biggest winner of the year was the loser of the GOP Primary for Lt. Governor, Twinkle Cavanaugh.  In all my years of following Alabama politics, I have never seen a more graceful and gracious second place finisher.  She only lost by an eyelash. She genuinely smiled on election night and said she had not gotten the most votes, even though she could have contested such a closely defined outcome.  She had entered the race as the favorite having been elected three times statewide. During October, she held a fundraiser for Will Ainsworth in her Montgomery home. She will never be seriously challenged in her post as President of the PSC.  
Speaking of rising stars, the third runner up is a young 18-year old fellow from Geneva County.  Weston Spivey became the youngest elected official in the state by winning a County Commission seat in his home county.  He won the GOP Primary before he was graduated from high school at Ridgecrest Christian School in Dothan. Young Spivey is also a volunteer firefighter with the Slocomb Fire Department. You should keep your eye on young Weston Spivey.  He may become Governor of Alabama before he is 30.
Besides Will Ainsworth, there were two other Republicans who were top vote getters.  Governor Kay Ivey and Secretary of State, John Merrill.
The biggest loser has to be the Democratic Party and our current anomaly, junior Democratic U.S. Senator Doug Jones.  Mr. Jones won this seat until 2020. Because he was on the other side of the ballot than Roy Moore in the 2017 special election. Every left wing, ultra-liberal group and individual in the country gave to Jones to beat Moore.
Jones has never hidden the fact that he is a liberal, national Democrat.  He showed his true colors when he voted against President Trump's Supreme Court appointee, Brett Kavanaugh.  Jones voted against this highly qualified jurist to appease his contributors in San Francisco and his like-minded Democratic buddies, Chuck Schumer, Elizabeth Warren, and Diane Feinstein.  We essentially have only one U.S. Senator. We have ceded our second seat to California. Jones believes in the old adage, "You dance with the one who brung ya." Hope he is renting in Washington because Alabamians are the ones that vote in 2020.
By the way, if you have Richard Shelby as your Senior Senator, you really don't need a second senator.
See you next week.
---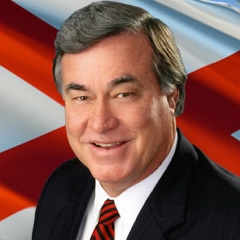 Alabama's premier columnist and commentator, Steve has analyzed Alabama politics for national television audiences on CBS, PBS, ABC and the British Broadcasting Network. Steve has been an up close participant and observer of the Alabama political scene for more than 50 years and is generally considered the ultimate authority on Alabama politics and Alabama political history.
All author posts