Our gubernatorial election year politics ended yesterday.  However, there have been other political maneuverings and developments going on behind the scenes, which may ultimately have more long-term ramifications in the Heart of Dixie's political future.
The selection of a new Business Council of Alabama leader is imminent and will probably occur in the next few days.  In addition, the jockeying and wrangling for the U.S. Senate Seat in 2020 has begun.
Alabama Power President, Mark Crosswhite, prudently cleaned house at the BCA earlier this year.  He organized a team of Cardinals to interview and select a new leader. Much like the vetting process for a new Pope, the Cardinals meet in total secrecy and send out smoke signals from the Vatican that they have not yet reached a decision.  However, there are smoke signals that a new leader of the BCA is about to be named. The process has been very private with no leaks.
This entire year long process of removing Billy Canary, who had reigned for 12 years, and selecting a new CEO has been a battle of business titans in the state.  It has been a battle waged behind an iron curtain.
The role of Mark Crosswhite in this change has been clear.  Mr. Crosswhite has emerged as the clear leader of the Alabama Business Community.
The original BCA was forged under the leadership of former Alabama Power President, Elmer Harris, several decades ago.  It had become a toothless tiger in recent years through poor leadership.
Mr. Crosswhite has picked the organization out of the junk pile and given it new life.  Chances for a new beginning happen very few times. Like in politics, after the election, you must govern.  My belief is that with a new leader and a fresh start the Business Council of Alabama will emerge bigger and better than ever.
You can rest assured that the business community of Alabama, and indeed the nation, will be looking forward to defeating Doug Jones in 2020.  It is a glaring anomaly that one of the most conservative Republican states in America would have an ultra-liberal, leftwinger in one of our senate seats. In last year's Special Election against Roy Moore, Jones received $22 million from the most liberal zip codes and enclaves in America, especially from the left coast of California and San Francisco.  It was the only show bill in town, and Roy Moore energized liberal money from throughout the country. Thus, the two truisms, "more people vote against someone than for someone," and "money is the mother's milk of politics," combined to create Alabama's accidental anomaly, Senator Doug Jones.
Our anomaly senator has done nothing to remedy the uncertainty about who he is since taking office.  He has done no campaigning or visiting around the state. He has shown a disregard and disinterest in basic political practices, like getting out among the rank and file Alabamians.  Jones seems to just go to Washington to vote, then back to Mountain Brook. The book on Jones is that he will not be elected to a full term in 2020. It is a presidential election year and Alabama will vote for the Republican nominee, probably Donald Trump, overwhelmingly.  This is a Republican senate seat and it will be won by a Republican. Jones seems to know this, therefore, he appears content to represent California during his tenure.
As soon as Jones was sworn in, the race to be the Republican nominee began.  The obvious candidates are one, if not all, of our six Republican members of Congress.  Speculation abounded that the three best potential congressional horses would be Robert Aderholt, Bradley Byrne and Mo Brooks.
The horse that has emerged as the favorite is Bradley Byrne.  He has started early and has staked out the inside track. He has crisscrossed the state building an organization and is collecting and tying up the Washington establishment money.
Aderholt will probably defer to staying in the House.  He has over 20 years of seniority and is in line to chair the Appropriations Committee.  Congressman Mike Rogers is moving up in seniority and is on Armed Services. Mo Brooks is expected to defer to Byrne in 2020 and look to run for Senator Shelby's seat in 2022 if he retires.
This stealth campaign for the 2020 Senate race has been going on this entire gubernatorial year.  Byrne is indeed laying his stakes. There is a maxim in life and politics, "the early bird gets the worm."
See you next week.
---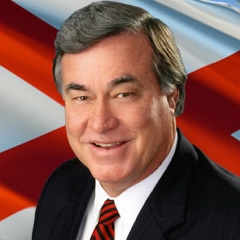 Alabama's premier columnist and commentator, Steve has analyzed Alabama politics for national television audiences on CBS, PBS, ABC and the British Broadcasting Network. Steve has been an up close participant and observer of the Alabama political scene for more than 50 years and is generally considered the ultimate authority on Alabama politics and Alabama political history.
All author posts