You have the results of Tuesday's runoff elections.  I had to go to press with my column before the results were known.
There are some fantastic runoff races which should be close and interesting.  The four best will be Troy King versus Steve Marshall in the Attorney General's race.  The Lt. Governor runoff between Twinkle Cavanaugh and Will Ainsworth will be interesting.  The Agriculture race between Rick Pate and Gerald Dial will be good. It will be interesting to see if Bobby Bright ousted Martha Roby from Congress in the 2nd district.
Let me share some thoughts and analyses from the first primary on June 5th. Kay Ivey and Walt Maddox won their party's nominations very impressively. Governor Ivey used the mantle of incumbency to win a decisive victory with 56 percent of the vote against three thought to be viable, well financed opponents.  Her campaign was brilliantly run. Her television ads were excellent.
The mastermind of her campaign was Brent Buchanan.  He is now the master of political campaigns in Alabama.  His polling arm, Cygnal, is the most accurate on the scene.  He uses his polling adroitly to design brilliant ads. Buchanan runs many campaigns out of state.  He only ran two in the state, Ivey's gubernatorial contest and Gerald Dials' race for Agriculture Commissioner. In fact, Buchanan came up with the best ad of the campaign season.  The jingle ad for Dial in the Ag race was spectacular.
Walt Maddox's waltz to victory over five opponents without a runoff was impressive.  It became apparent in the closing days that he was going to win without a runoff. He ran the table on all of the important endorsements.  He got the Alabama Democratic Conference, New South Coalition, but even more importantly the endorsement of and use of the young Birmingham Mayor, Randall Woodfin's organization. This was a recipe for a big win.
Maddox is the best candidate that the Democrats have fielded for governor in two decades.  He is young, vibrant, and has a proven track record as a Chief Executive/Mayor of one of Alabama's largest and most important cities, Tuscaloosa.
However, we are still a very red state.  All 29 of our statewide elected offices are held by Republicans.  Kay Ivey is not only the Republican nominee, she is the sitting Republican governor who can continue to cut ribbons and claim credit for every industrial announcement as well as the outstanding national economy and job growth.  She will refuse to debate or go unscripted. In addition, as the incumbent she can raise substantial campaign funds.
In the June 5th primary, there were twice as many votes cast in the GOP Primary as there was in the Democratic Primary. There were 340,000 votes cast for Kay Ivey, whereas there were only 284,000 votes cast for all of the Democratic gubernatorial candidates combined.  Therefore, 174,000 more people voted for Governor Kay Ivey than Mayor Walt Maddox.
I would handicap this race 56 to 44 in favor of Ivey going into the Fall.  The only way that Maddox can win is for Kay to falter. Her handlers should keep her close to home and limit her appearances.  They should continue to not discuss the issues that face the state or take any positions or offer any plans for the state woes.  Under no circumstance should they allow her to debate. The young articulate mayor would eat her lunch. The contrast in appearance itself would be dramatic.
Maddox, if not elected, will live to run another day.  The divide between the two political parties is narrowing in the state.  Younger voters are trending Democratic, even in the Heart of Dixie.
Tommy Battle ran a very successful get acquainted race for governor.  He will be the favorite in 2022. You could see a Walt Maddox vs. Tommy Battle contest in four years.
Battle built name ID and got 25 percent of the vote against a popular incumbent governor.  He goes back to being Mayor of Alabama's most prosperous and fastest growing city. If you think Huntsville has prospered and boomed the last 10 years, you ain't seen nothing yet!  It could very easily be the boom town of America in the next five to ten years.
Maddox's city of Tuscaloosa is growing right behind Huntsville.  Quite frankly, Battle and Maddox have much better jobs as mayors of Huntsville and Tuscaloosa than if they were Governor of Alabama.
See you next week.
---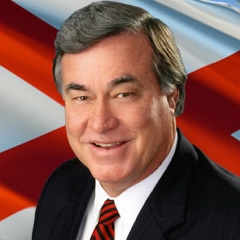 Alabama's premier columnist and commentator, Steve has analyzed Alabama politics for national television audiences on CBS, PBS, ABC and the British Broadcasting Network. Steve has been an up close participant and observer of the Alabama political scene for more than 50 years and is generally considered the ultimate authority on Alabama politics and Alabama political history.
All author posts