Awhile back, during Dr. Robert Bentley's tenure as govern0or, I wrote a column entitled They May as Well Move the Capitol to Tuscaloosa.
Never before in Alabama history has a city had a sitting governor and the state's senior U.S. Senator hale from that particular place.
Even with the departure of Bentley as governor, the Druid City has an inordinate amount of presence in the state's political sphere of influence.
Senator Richard Shelby is in his 32nd year as our U.S. Senator.  With that kind of seniority, comes immense power in Washington.  Shelby is Chairman of the Senate Rules Committee and is easily one of the three most powerful U.S. Senators.  History will record him as Alabama's greatest and most effective U.S. Senator in Alabama political lore.
Secretary of State, John Merrill, is from Tuscaloosa.  He served in the Legislature prior to winning statewide office.
Scott Donaldson serves on the State Court of Appeals.  He was a Circuit Judge in Tuscaloosa prior to his move to the state court.
Judge John England currently sits on the Bench as a Tuscaloosa Circuit Judge.  He has previously served on the State Supreme Court.  He is one of the most respected men in the state.
Judge England's son, Chris England, has represented Tuscaloosa in the House of Representatives very effectively for 11-years.  Chris is not only a stellar legislator; he is a practicing lawyer and an expert on Alabama football, which he grew up watching.
Hardy McCollum has been in his office for over 4-years.  He is nearing the end of an unprecedented seventh six-year term.  That means that Hardy was first elected in 1976.  Over the years, he has generally been considered the most popular political figure in Tuscaloosa County.
State senator, Gerald Allen, has been representing his native Tuscaloosa County in the state Legislature for 24-years.  He served 16-years in the State House prior to his election to the State Senate eight years ago in 2010.  He is considered one of the most conservative members of the State Senate.
Some folks believe that this time next year, Tuscaloosa may regain the Governor's office.  Their very popular, 45-year old mayor, Walt Maddox, will likely be the Democratic standard-bearer in the 2018 Governor's race.  Young Mr. Maddox is very popular in his hometown.  He has been the historic city's 36th mayor since 2005, which means he was first elected at the ripe old age of 32.
Although not Tuscaloosa's, there are some influential powers that live nearby and represent them in the Halls of Congress and the State Senate.
Congressman Robert Aderholt from Haleyville represents Tuscaloosa as well as outstanding State Senators Greg Reed of Jasper and Bobby Singleton of Greensboro.
Lastly but certainly not least, Tuscaloosa lays claim to a most popular and consensus brightest rising star in the Alabama Legislature.  State Representative Bill Poole is a crown jewel that Tuscaloosa can be very proud to call their own.
Bill Poole is a lawyer by profession.  His utmost priority is his devotion to his wife, Nicole, and his three children, Sally, William, and Whitman.  The Poole's are active members of the First Methodist Church of Tuscaloosa.
Bill earned his B.S. and Law degrees from the University of Alabama and began his law practice in Tuscaloosa, in 2004.  This Republican District 63 encompasses primarily the City and suburbs of Tuscaloosa.  Dr. Bentley was the Representative from this District prior to Poole.  Tim Parker represented the district prior to Bentley.
Poole came to the House with a large group of Republicans in 2010.  He immediately became a leader of that group.  The entire Legislature quickly recognized his potential.
By the end of his first year in 2011, it was evident that Poole was clearly the star of that 34-member class.  When you asked every veteran observer of Goat Hill about the class, the first name on the list was Bill Poole.  He is liked and respected by members on both sides of the aisle.
In only his second term, he became Chairman of the Ways and Means Education Budget Committee.  When Mike Hubbard was removed as Speaker, it was a foregone conclusion that Poole was going to be Speaker.  He turned down the post because he wanted to be able to spend time with his young family.
At 38 the sky is the limit for Poole.  However, folks in Tuscaloosa hope he stays put.  For a city that is home to the University of Alabama, having the Chairman of the Education Budget Committee is a pretty good coup.
Tuscaloosa was once the Capital.  Some would say it essentially is again.  In fact preliminary census estimations project that Tuscaloosa will exceed Montgomery in population by 2030.
See you next week
---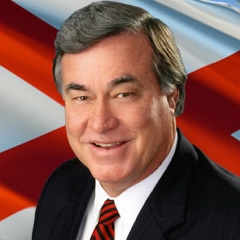 Alabama's premier columnist and commentator, Steve has analyzed Alabama politics for national television audiences on CBS, PBS, ABC and the British Broadcasting Network. Steve has been an up close participant and observer of the Alabama political scene for more than 50 years and is generally considered the ultimate authority on Alabama politics and Alabama political history.
All author posts