Jefferson County is transitioning from a Republican to a Democratic county.  In the process, they are having an interesting array of intriguing political happenings. You may recall that a few months back I wrote about the indictment of the newly elected Jefferson County District Attorney, Charles Todd Henderson, on perjury charges.  To say a lot has happened since then would be an understatement.  
Dr. Robert Bentley has vacated the governor's office under a scandalous cloud.  Lt. Governor Kay Ivey has ascended to governor, and appears to be the favorite to win election to a four-year term of her own in next year's upcoming elections.  We have had a Special Election to fill the remaining three years of Jeff Sessions' six-year Senate term.  Former Governor Bentley's appointee, former state Attorney General Luther Strange, was overwhelmingly defeated by former state Chief Justice Roy Moore, and the Ten Commandments Judge is poised to become our junior U.S. Senator. Therefore, that brings me back to Henderson.  
There is a trial beginning next week regarding the Democrat Henderson. Todd Henderson was a police officer and a youth sports coach that put himself through law school later in life and, ultimately, became a lawyer.  He is also a lifelong Democrat.  Therefore, when he challenged two-term Republican Jefferson County District Attorney Brandon Falls in the 2016 Election, Henderson won.  
It was simply another referendum on the party power struggle in our most populous county.  The District Attorney race, similarly to all of the judicial races, has become a simple partisan straight ticket voting pattern in imperial Jefferson.  Henderson won election in a fair and square unquestionable election.  The reason Henderson won was because he was a Democrat and Falls was a Republican.  
Luther Strange being the Republican Attorney General of course took the Republican mantle and began investigating Henderson to find a way to thwart the Democratic takeover of this powerful post of Jefferson County District Attorney.  Strange's office began investigating Henderson on perjury charges only after he was elected the Democratic nominee.  Had Henderson lost to Falls that might have been the end of it.  Based on research there has never been anyone in Jefferson County indicted, much less convicted of perjury in a divorce case.  But Henderson won.  So, on January 13, 2017, just three days before Henderson was supposed to take office, Strange indicted him.
When a District Attorney gets indicted, he is immediately suspended from office and the presiding local judge gets to pick who'll replace him while the indictment is pending.  Most folks do not know this, but the recently defeated Falls was well aware of this fact.  That is why, according to some, Falls showed up at the judge's office right after the indictment and made a pitch that he be appointed to fill the position.  Just think about that.  The voters in Jefferson County had rejected him as their DA with their votes, and he is trying to sneak in the back door as soon as he gets the chance.  Fortunately for the voters, the judge was having none of it and appointed Henderson's chief deputy instead.
Now the case is headed to trial and the only way Falls or any Republican can get into the DA office is if Henderson gets convicted.  That is because a conviction will remove both Henderson and the judge's appointment from office, giving Governor Ivey, a Republican, the power to appoint whomever she wants and you can bet it will not be a Democrat.  
The whole mess stinks to high heaven of political motivation and vindictiveness.  Our new Attorney General Steve Marshall, who was not a party to the Strange/Bentley scheme, has the chance to end this chicanery now before the trial starts and restore some faith in the office of Attorney General.  The clock is ticking.  
Marshall, who was appointed by Bentley to fill out the remainder of Luther Strange's term, is running for a full term.  The former Marshall County District Attorney is essentially unknown statewide.
Currently, former U.S. Attorney Alice Martin and Birmingham lawyer Chess Bedsole are the frontrunners to win next year's race for Attorney General.  However, if former Attorney General Troy King enters the race, he will win in a cakewalk.
See you next week.
---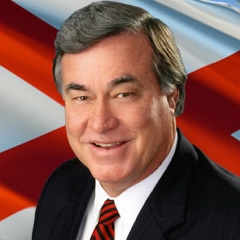 Alabama's premier columnist and commentator, Steve has analyzed Alabama politics for national television audiences on CBS, PBS, ABC and the British Broadcasting Network. Steve has been an up close participant and observer of the Alabama political scene for more than 50 years and is generally considered the ultimate authority on Alabama politics and Alabama political history.
All author posts