Our Senior U.S. Senator Richard Shelby will begin his sixth six-year term in January. He is an Alabama treasure. Over the past 30 years as our Senator he has brought millions of federal dollars home to Alabama.
Richard Shelby currently reigns as Alabama's most prominent political figure. He is one of Alabama's three greatest Senators in history along with Lister Hill and John Sparkman. Shelby is easily one of the most influential political figures in the nation.
Shelby has had a perfectly scripted rise to political power and acclaim. In 1970 at age 35, he entered politics and was elected to the State Senate from Tuscaloosa. He ran for an open seat in Congress in 1978 and won. In 1986 he rolled the dice, gave up his safe congressional seat and took on an incumbent Senator.
In 1986, Shelby was a 50-year-old Congressman a Democrat who had a stellar conservative voting record.  He was safe in his U. S. House seat. Therefore, his decision to challenge an incumbent U. S. Senator was a gamble. His friends cautioned him that it was an uphill battle and he should not risk his safe House seat. His basic reply was, "I'm one of 435 in congress, given the rules of seniority, it will be 20 more years before I can chair a committee or subcommittee.  They don't even know my name up here. I'm either going to the Senate and be somebody, or I'm going home and make money."
One factor that the average political observer was not aware of that Shelby probably sensed was that his congressional district was destined to be the first African American district after reapportionment in 1990. That is what happened to Shelby's 7th District.
Although it would be a daunting task to upset an incumbent, U. S. Senator, Jeremiah Denton had written a textbook on how to lose a Senate seat during his six-year term. Denton was elected as Alabama's first Republican Senator since Reconstruction in 1980. He was swept into office on the coattails of Ronald Reagan who carried Alabama in a landslide. Alabamians knew very little about Denton except that he had been a naval officer and a well-known national POW in the Vietnam War. His patriotic hero position sold well in Alabama, especially with Reagan headed to the White House.
Yet Shelby beat Denton. It was close and Shelby had to spend some of his personal money the last week of the campaign to carry out the upset, but Alabama has been the better for Richard Shelby's 1986 gamble. He was been reelected in 1992, 1998, 2004, 2010 and now in 2016.
I had the opportunity to fly back from Washington with and visit with Shelby a few years after his 1986 victory. He told me the inside story of the last six days of that campaign that illustrates how important money and media are in today's modern politics.
When he decided to run against Denton, he knew the importance of money to a campaign.  He also knew that it was essential to get the best media guru regardless of the price.  Therefore, he spared no expense and got the best pollster and media people in America. About six days out, he was six points behind. The pollster told him to put $100,000 of TV ads in the Birmingham market using a certain ad and it would raise him two points. He did and it did.  The next day the media man and the pollster told him to spend $50,000 on TV ads in the Mobile market using a certain ad and it would give him a one point boost. He did and it did.  The next day the pollster told him to run a certain ad in the Huntsville market and spend $60,000 and it would raise him a point. He did and it did. Two days out the pollster told him to run a certain ad in both Birmingham and Montgomery and it would raise him by three points. He did and it did.
He won by one point. I suspect the ad most suggested by the pollster and the media guys was the one where Denton was saying he didn't have time to come home and kiss babies' butts.
See you next week.  
---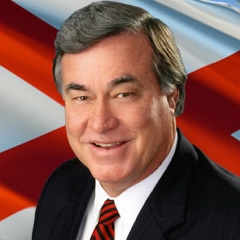 Alabama's premier columnist and commentator, Steve has analyzed Alabama politics for national television audiences on CBS, PBS, ABC and the British Broadcasting Network. Steve has been an up close participant and observer of the Alabama political scene for more than 50 years and is generally considered the ultimate authority on Alabama politics and Alabama political history.
All author posts