You know the outcome of the election. Unfortunately I had to go to press with the column prior to Tuesday. We will analyze the results for you next week. There should be very few surprises.
The Electoral College System of selecting our President favors a Democrat winning the White House. Under this archaic and undemocratic system, it is a winner take all electoral vote contest. For example, if Hillary Clinton carries New York by one vote, she gets all 29 electoral votes. If Donald Trump gets one more vote than Clinton in Kansas, he gets all 6 electoral votes.
When you look at the map of the red Republican states carried by Trump, it looks like most of the country. The middle of America is Republican but those states have fewer people. The east and west coasts of the country are fortressed by New York and California.
It is easy to see that the east and west coast outweigh Middle America. The country is trending leftward philosophically. That is why California is referred to as the left coast. The country is also changing dramatically demographically. An amazing 15% of our U.S. Electorate is Hispanic. That makes this vote the most important ingredient in the presidential contest. These voters are not totally predictable, unlike African American voters, which comprise 12% of the electorate. African American voters monolithically vote 95% Democratic. Therefore, their votes are predetermined and they are not courted. Most southern whites are the same way. They vote 90% Republican.
We in Alabama really do not have a say in presidential politics. Indeed very few Americans do. If Donald Duck was the Republican nominee for president, Donald Duck would carry Alabama. However, do not feel left out. If you lived in California you do not matter either. California has over 10% of the nation's people. They have 48 electoral votes. They are so liberal and Democratic that if Mickey Mouse was the Democratic nominee, he would carry California and garner all of their electoral votes.
There are about 40 states that are predictably safe in either the Republican or Democratic column, similar to Alabama and California. All the money is spent and campaigning is done in the 10 pivotal battleground states.
The ultimate swing state is Florida. The Sunshine State is now America's third most populous state. It is a microcosm of America, probably because most of America has moved there to retire. Therefore, if you want your vote to count in a presidential race, move down to Florida. It would also make it easier to buy your lottery tickets. You can probably look at Florida and whoever carried Florida Tuesday won the White House.
Our state elections are also pretty much no contests in the November general election. We are a solidly Republican state. All of our statewide officials are Republican. If you want to win in Alabama you have to do it in the Republican primary.
Our senior U.S. Senator Richard Shelby will be reelected to a 5th six-year term. He will soon be Alabama's longest serving U.S. Senator. He has also been one of our most powerful. He will join the ranks of Lister Hill and John Sparkman as Alabama's three greatest U.S. Senators.
Popular PSC President Twinkle Andress Cavanaugh will be reelected to her second four-year term. She was first elected to the commission in 2010.
Supreme Court Justice Tom Parker will be reelected to another six-year term. He was the largest vote getter in the Republican primaries earlier this year.  
Kelli Wise will also be reelected to another six-year term on the State Supreme Court. The Geneva County native may be the prettiest Supreme Court Justice in America.
All six of our Republican members of Congress will have been reelected on Tuesday. Bradley Byrne, Martha Roby, Mike Rogers, Robert Aderholt, Mo Brooks and Gary Palmer will continue to represent the Heart of Dixie in a very conservative fashion for another two years. Terri Sewell will continue to be our only Democrat.
Tuesday's election may be the last that would require residents to prove that they are U.S. citizens when registering to vote. A federal appeals court appears likely to side with voting rights groups seeking to block Kansas, Georgia and Alabama from requiring proof of citizenship.
See you next week.  
---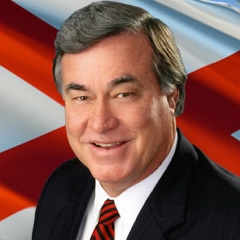 Alabama's premier columnist and commentator, Steve has analyzed Alabama politics for national television audiences on CBS, PBS, ABC and the British Broadcasting Network. Steve has been an up close participant and observer of the Alabama political scene for more than 50 years and is generally considered the ultimate authority on Alabama politics and Alabama political history.
All author posts